MSI's X-series notebooks have historically tried to imitate the sleek lines presented by Apple laptops. Breaking a little from tradition, the company rolled out the X460 at COMPUTEX 2011, which is designed to offer significant mobile computing power in a tidy package.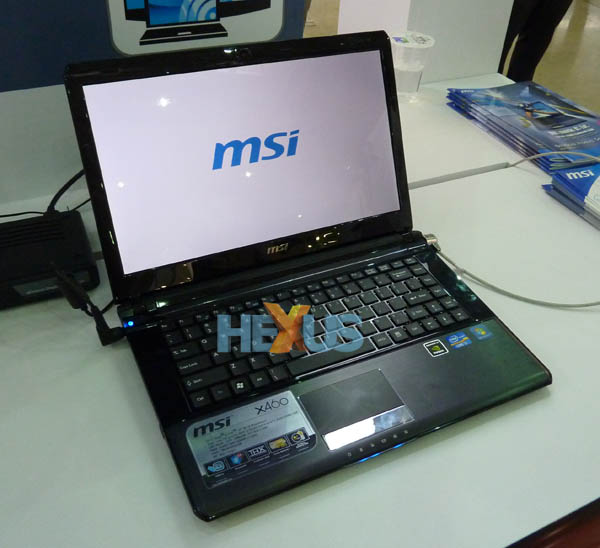 The X460 is neither the lightest nor most powerful notebook on the market, but one glance at the specification sheet shows promise.
Less than an inch-thick and weighing in below 2kg, the X460 can pack in a range of Intel Core i3/i5/i7 second-generation Sandy Bridge chips with built-in graphics, including a quad-core variant. But it's also outfitted with NVIDIA's GeForce GTX 540M 1GB GPU for better-than-average gaming credentials, though, when we quizzed MSI's reps, there was no mention of NVIDIA's Optimus battery-saving technology.
The mid-sized laptop features a 14in screen with a native 1,366x768 resolution, making it a good fit for the discrete video card. 8GB of DDR3 memory can be installed, and the X460 is kept up to date with USB 3.0, Bluetooth 3.0, and WiDi 2.0 - Intel's video-exporting technology to larger screens via wireless.
Reckoned to provide over eight hours battery life, depending upon configuration, the X460's optical drive can be removed and replaced by a second hard-drive to form a speedy RAID array. We'd be more inclined to throw an SSD in and use the second drive for storage.
From our brief time with the laptop at the COMPUTEX show, we reckon the X460 has the potential to do well. The real deal-maker will be the price. MSI, however, wasn't forthcoming with an RRP or launch timescale.