Alienware has officially unveiled three new laptops - including refreshed M11x, and new M14x models.
The refreshed M11x, with its 11.6in WLED HD (720p) display and 1,366x768 resolution, taps into the prowess of NVIDIA's GeForce GT 540M GPU, supports up to 16GB of 1,333MHz DDR3 RAM, and is fuelled by either an Intel Core i5 or Core i7 CPU.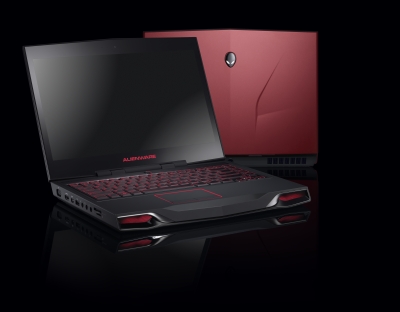 The new M14x goes Intel Core i7 only and features a choice between a 14in WLED HD (720p) display - with a resolution of 1,366x768 - or, an WLED HD+ (900p) flavour offering a resolution of 1,600x900. NVIDIA's GeForce GT 555M GPU takes the helm here - together with Optimus technology to switch between discrete and integrated graphics capabilities - thereby, maximising battery life. Up to 8GB of 1,600MHz DDR3 RAM is supported and akin to all options, sounds are pumped out through built-in Klipsch speakers, plus there's the addition of USB 3.0 support and HDMI 1.4 connectivity too.
The third model - an 18.4in option known as the M18x - will be fleshed out over the coming weeks, but Alienware already teases that it will offer dual-GPU flavours, support up to 32GB of 1,333MHz DDR3 RAM and factory-overclocked Intel Core i7 Extreme Edition CPUs too.
In the meantime, the M11x and M14x are available starting at £899 and £1099, respectively, including VAT and delivery.