Following a flurry of leaks and speculation, Apple has today unveiled a new range of MacBook Pro notebooks.
Available in 13in, 15in and 17in models, with prices starting from £999, £1,549, and £2,099, respectively, Apple's refreshed range sports a choice of second-generation Intel Core processors, AMD Radeon HD graphics and a new high-speed interface dubbed Thunderbolt.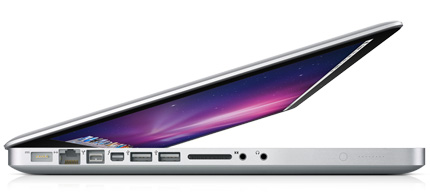 The latter, developed by Intel under the code name "Light Peak", is a copper-wire interface offering data transfer rates of up to 10Gbit/s - double that of USB 3.0. Apple's MacBook Pro is the first available computer system to utilise the technology, and with Intel claiming that optical implementations of Light Peak can scale upward to speeds of over 100Gbit/s in the next decade, the interface could become a one-stop replacement for a wide range of existing connectors such as USB, FireWire, SATA, DisplayPort and HDMI.
In addition to adopting Intel's high-speed interconnect, Apple's latest round of MacBook Pros feature AMD Radeon HD graphics at the expense of NVIDIA's once-problematic GeForce. Starting today, both the 15in and 17in MacBook Pro are available with an Radeon HD 6000 Series GPU running alongside a choice of Intel Sandy Bridge processors.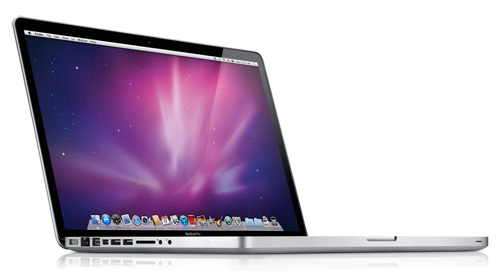 Intel's second-generation processor provides its own integrated graphics core and will solely power Apple's smallest 13.3in MacBook Pro, while the larger 15in and 17in models will use hybrid graphics technology to ensure the power-hungry discrete Radeon GPU is called upon only when needed.
Available processor options range from a dual-core 2.3GHz Intel Core i3 on the 13in MacBook Pro, up to a quad-core 2.2GHz Intel Core i7 on the range-topping 17in MacBook Pro, while discrete graphics choices on the 15in and 17in models include the AMD Radeon HD 6490M and AMD Radeon HD 6750M. All three models now feature an integrated FaceTime HD webcam and battery life continues to be rated at seven hours. Complete specifications are available at the Apple Store.
Following on from today's MacBook refresh, Apple is expected to unveil a second-generation iPad at an event on March 2nd.