Plain honey
We had a chat with James Powell (pictured below), head of product management at Samsung UK, at Samsung's Mobile World Congress stand today, and he gave us a bit more insight into the positioning of the Galaxt Tab 10.1.
He confirmed that the device is a global exclusive for mobile operator Vodafone. Not only does this mean no other operator will offer it for an initial period, it also means Vodafone is free to customise the new tablet to its heart's content.
This is further aided by the fact that Samsung is loading an unaltered, 'vanilla' version of Android 3.0 onto the Tab 10.1, which will launch in April. This has been done deliberately to allow Vodafone maximum opportunity to customise it with its own UI, software and services.
Asked about other Samsung tablets, Powell said the original tab is selling really well and that there will be further Samsung tablet launches over the course of this year. He also confirmed that over-the-air updates will apply to the new generation of devices.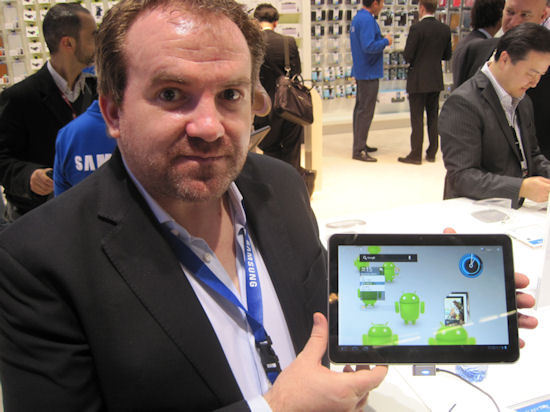 Once the initial vanilla period elapses, and we couldn't get any specifics on that, Samsung plans to make a big push into enterprise with the tablet. But for the newly launched Galaxy S II that push starts straight away.
In a separate presentation, Eric Moon - director of Samsung Enterprise Solutions (pictured below) - outlined some of the unique enterprise features Samsung is bringing to its new phone. "Android is the most successful smartphone platform, but it presents challenges for IT managers," he said.
The three main issues Samsung is addressing are: security, IT policy support, and software compatibility. With things like on-device encryption, support for nearly all IT policies, and enhanced compatibility with Exchange and WebEx, Samsung hopes to reassure enterprises that they can trust Android smartphones.