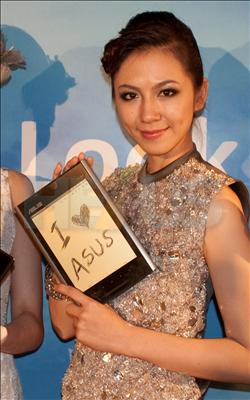 The ASUS Eee Tablet, which confusingly bears no relation to the Eee Pad, seems an interesting device.
Announced as a twist on the e-reader category, the 8in slate-like device doubles as both a non-backlit e-reader and a digital notepad.
During use, we found the device to be surprisingly thin but well weighted and very precisely finished with sleek lines and smooth curves. In the flesh, it's very easy on the eye - both aesthetically and when in use. Using a non-backlit TFT-LCD display as opposed to an E-ink panel, the Eee Tablet is able to offer snappy performance - with page turns taking place practically instantaneously - without any glare or eye strain.
The speed of the page turns is impressive, but the overall responsiveness of the screen left plenty to be desired. We found navigation to be hit or miss with the Eee Tablet often failing to recognise our input, and we ran into similar issues when using the device as a note taker.
Another input frustration is that the Eee Tablet's display will only respond to the bundled stylus. Unfortunately, that means the main menus can't be conveniently navigated at the touch of a finger.
The two megapixel camera found on the rear of the device captures surprisingly crisp images, but we weren't able to test the built-in mic as the voice recorder application wasn't available.
The 10-hour battery life might be a concern for bookworms, but the idea of combining an e-reader with a digital notepad seems a good one. ASUS assures us that the screen's responsiveness will be vastly improved prior to September, by when you'll be able to pick up an Eee Tablet for under $300.
Want a closer look? Hit play on the embedded clip below.