ASUS announced one of the world's first iPad alternatives earlier this week in the form of the Eee Pad, and we've been given the opportunity to have a little hands-on time with the upcoming device.
Unfortunately, the Eee Pad is still stuck in the development stage and remains some way from completion, with ASUS's announced models barely able to function. Even that's an understatement, as the 12in Windows 7 model shown at Computex - the Eee Pad EP121 - wasn't able to boot at all.
Instead, we were able to play with the smaller 10in Eee Pad EP101TC and get a feel for ASUS's tablet plans.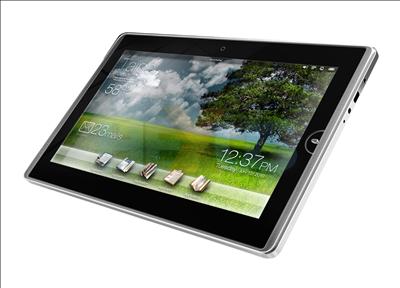 The 10in system, pictured above, measures 12.2mm thick, weighs 675g and is scheduled for release early in 2011. It's well built, nicely finished and suitably potent thanks to the NVIDIA Tegra SoC residing within.
During use, it felt comfortable to hold and the multi-touch screen is both nice and bright, and highly responsive. Its gloss finish, however, is very reflective and severely prone to fingerprints. It might be the hot and humid Taiwanese weather, but after a few minutes in our sweaty paws the Eee Pad was covered in smears.
What we do like is that ASUS has attempted to play on the perceived shortcomings of the iPad by including a webcam, USB port and SD card reader - all of which are likely to be welcomed by would-be buyers.
On the software side of things, ASUS is showing off the Eee Pad EP101TC with Microsoft's upcoming Windows Embedded Compact 7 operating system - which of course offers support for Adobe Flash. Set to become the latest release of Windows CE later this year, ASUS's early build suggests that the OS will be able to deliver on two key fronts; speed and aesthetics.
Finished in what we presume is an ASUS-made skin, the OS looks the part and features a widget-based home screen. A swipe brings up a second screen filled with shortcuts for various apps, and the Tegra chip makes the transitions feel silky smooth. That's about as good as our experience got, however, as little else on the Eee Pad is currently functioning. The reader application barely worked, and the web browser provided only a pre-recorded demo of various websites. Other apps wouldn't load.
We'd liked to have been able to dig deeper, but at this early stage we can make only a few assumptions; ASUS's hardware design seems excellent, but the software experience requires plenty of work. Check out our hands-on preview of the Eee Pad in the below clip.