Whilst netbooks may have occupied ASUS headlines in recent years, it seems ultra-thin tablet-like systems are the next big thing.
In addition to the Eee Pad PCs unveiled today, the Taiwanese manufacturer has launched another slate-like system in the form of the Eee Tablet.
Contrary to its name, however, the device isn't a tablet PC as you'd come to think of it. Instead, it acts as an e-reader with advanced note taking functionality built in.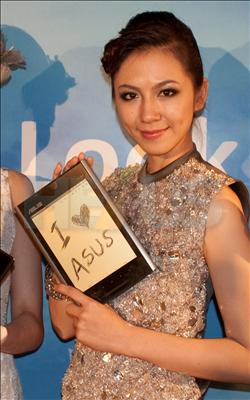 Designed for students and mobile professionals, the Eee Tablet features an 8in non-backlit TFT-LCD display that ASUS claims will offer better performance than the e-ink screens found on rival solutions such as Amazon's Kindle.
Supporting that claim are super-quick page turns that take place in 0.1 seconds and a 2,450 dpi input sensitivity. The latter makes this one of the most accurate digital notepads on offer, and ASUS's software will allow you to tag, store and search through any notes you've taken.
In addition to capturing your notes with speed and precision, the Eee Tablet will also capture real-life images courtesy of an integrated two-megapixel camera. ASUS reckons the added functionality is ideal for taking snapshots of lecture slides, and there's a built-in microphone that allows for digital voice recorder functionality, too.
It's something of a glorified e-reader, but there's nothing wrong with that. Well, almost nothing. That quick TFT-LCD display we mentioned? Coupled with all the other added niceties, it inevitably takes its toll on battery life. Unlike Amazon's Kindle - which will run for days from a single charge - the ASUS Eee Eee Tablet will be craving power in about 10 hours.
Expect to see the Eee Tablet in stores this September priced at under $300.