Dell has remained tight-lipped in regards to the 5in slate PC first unveiled at CES earlier this year, but that hasn't stopped the finer details from spreading.
The latest information suggests the upcoming device will be dubbed the Dell Streak, and it'll be available in a multitude of colour configurations.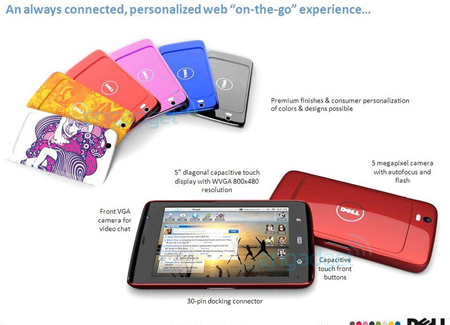 Although there's no official word from Dell itself, the latest details come from technology blog Engadget who has managed to get its hands on a few "official slides from an internal Dell document".
According to the slides, Dell's Streak will feature a 5in capacitive touchscreen display with an 800x480 resolution, a five megapixel camera with autofocus and flash, a front VGA camera for webcam use and a 30-pin docking connector.
The aforementioned specification had been rumoured before, but Dell's slide also reveals that the tablet-like system will be available in an array of colours, and what looks like unique skins created via Dell's Design Studio.
Highlighting that the Streak will go head-to-head against Apple's iPad as a multimedia consumption device, a second Dell slide reveals that a content partnership with Amazon will equip the Streak with a Kindle e-reader application, as well as access to Amazon's MP3 and video stores.
There's still no hint of pricing or availability, but if you're looking for an alternative to the iPad + iTunes combination, Dell's Streak looks a useful competitor.