Remember the Microsoft Courier tablet-like foldable device that first appeared back in 2009? It became seemingly forgotten in a tablet marketplace overcome with iPad hype, but has now reappeared with a slew of enticing details.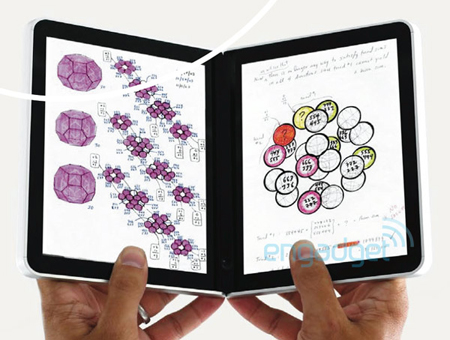 Although there's no official information coming direct from Microsoft, an "extremely trusted source" appears to have spilled the details to technology blog Engadget.
According to the site, Microsoft's Courier device is said to be described as a "digital journal", with ultra portability the order of the day. Measuring under an inch thick and weighing less than a half a kilogram, the device apparently "isn't much bigger than a 5x7 photo when closed".
Inside, the trusted source claims Courier is powered by NVIDIA's second-generation Tegra platform, and will feature the same operating system as the Zune HD and Windows Phone 7 Series - suggesting a Zune-style interface built on the Windows CE 6.0 kernel.
Intrigued? Engadget's source also reveals that the device will feature a built-in webcam, a headphone jack and will focus heavily on e-book functionality, with built-in handwriting recognition and pen input acting as the primary interaction method.
Rounding off the sensational set of rumours is a proposed launch date of Q3 or Q4 2010. We'll try to hide our excitement until Redmond officially confirms this device, but one thing's for certain; Microsoft has its sights set firmly on the mobile space in 2010. The iPod, iPhone and iPad in particular look set to be the main targets for Microsoft's Zune, Windows Phone and now Courier products.
A selection of images showing Courier's supposed user interface are available at Engadget.com.