Remember the HP Snapdragon-powered Android mini-notebook* we went hands-on with back at CES last month?
Well, the device has now been officially announced in Spain ahead of next week's Mobile World Congress in Barcelona.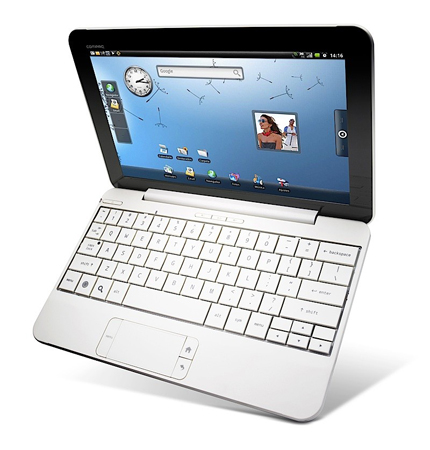 Arriving under the arm of HP subsidiary Compaq, the ultra-portable system has been dubbed the Compaq Airlife 100 and features a 10.1in touchscreen display designed to play nice with Google's Android operating system and a specially-designed HP interface.
Inside the unit there's a Qualcomm Snapdragon processor - as opposed to the traditional Intel x86-based Atom found in your average netbook - along with 16GB of Flash-based storage, and both 3G and Wi-Fi connectivity.
HP reckons the slimline battery will provide 12 hours of active usage from a single charge, or a massive 10 days in standby mode. And for all those of you unimpressed by Apple's iPad - myself excluded - how about this; the Compaq Airlife 100 does touch, has a physical qwerty keyboard, an operating system that'll allow you to multi-task, an SD card slot and impending support for Adobe Flash. Shame it doesn't convert into a tablet, though.
No news on UK availability or pricing just yet, but HP Spain suggests the Compaq Airlife 100 will soon be made available with a range of mobile broadband packages via Spanish telecommunications company, Telefónica.
*Yes, we'd like to call it a "smart notebook" of sorts, but currently can't due to legal reasons.