2010 has been labelled by some as "the year of the tablet", and whilst Apple's eagerly-awaited iPad seemingly struggles to live up to the hype, there's no shortage of competition in what's sure to be a fiercely-contested form factor
The latest tablet contender is MSI, whose sales director Sambora Chen - presumably catching scent of the doubt surround Apple's iPad prospects - has promptly revealed that the company's NVIDIA Tegra-powered tablet PC will arrive in the second half of 2010.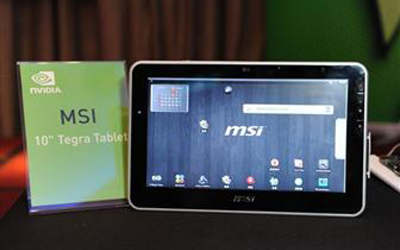 The MSI system, pictured above in prototype-form, is said to be priced at $500 - matching the entry-level cost of Apple's iPad.
Speaking to Chinese newspaper Digitimes, Chen states that MSI's tablet will offer a 10in touchscreen display and, whilst remaining thin and light for mobility, will provide all the functions of a regular notebook.
Presumably powered by NVIDIA's second-generation Tegra SoC, the MSI tablet is likely to feature a 1GHz dual-core CPU and a HD-capable NVIDIA GPU. The device was first seen at CES earlier this month, sporting Google's Android operating system.
Expect to see this, and a wave of other tablets, feature heavily at the CeBIT trade show in March 2010.