Unbreakable tablet PC for under $100?
One Laptop per Child (OLPC) has revealed a concept design for its rumoured third-generation XO-3 PC, a low-cost tablet it hopes will make its way into the hands of third-world children in 2012.
The system takes the form of an ultra-slim tablet PC, with the OLPC claiming it will cost "well below $100" and " feature a new design using a single sheet of flexible plastic" that is both "unbreakable" and "without holes".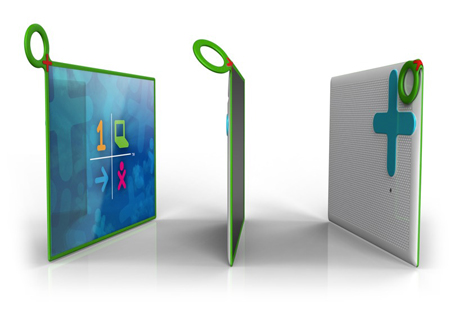 Said to feature an 11in touchscreen display, the XO-3 will also incorporate a built-in camera, an induction charger and internal components that use just one watt of power, according to OLPC CEO Nicholas Negroponte.
The XO-3 arrives as a replacement design for the XO-2, a dual-screen variant that was first showcased in 2008 and then scrapped late in 2009. Although the XO-3 isn't expected until 2012, the OLPC has also confirmed a number of interim designs.
In 2010, the current XO-1 is expected to be superseded by the XO-1.5, an upgraded model featuring a VIA CPU and larger quantities of Flash memory. In 2011, the OLPC then expects to launch the XO-1.75, a system retaining the XO-1's laptop design but featuring a lower-power processor from UK firm ARM and an 8.9in touchscreen display.
Having initially struggled for adoption, the OLPC project has started to find its legs. Over a million XO laptops are already in circulation in over 30 countries, and both Uruguay and Peru have already placed orders for an XO laptop for all of their school children.
Want to see more of the ambitious XO-3 design? Head on over to page two for a handful of additional images.