Earlier this month, Alienware - the ultra high-end arm of Dell - was teasing the launch of forthcoming notebooks and desktops described simply as "all powerful".
That teaser, incidentally, continues to run at allpowerful.com and won't expire for another four days - coinciding with the launch of COMPUTEX on June 2nd. Fortunately for those intrigued, it appears Alienware couldn't contain its excitement any longer and has jumped the gun by unveiling its all-powerful M17x notebook - successor to last year's M17.
The somewhat-portable system, pictured below, is a gargantuan desktop replacement that measures 400.5mm x 321.31mm x 53.59mm and weighs roughly 5.3kg.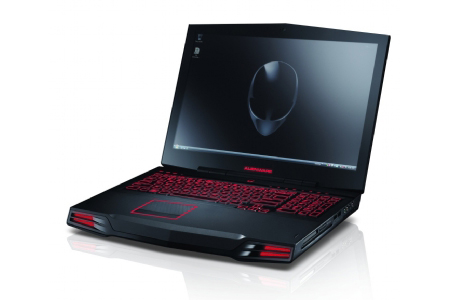 It's $1,799 base specification will include a GeForce 9400M IGP, and a discrete GeForce GTX 260M - both utilising NVIDIA's Hybrid Power to ensure the 260M powerhouse kicks in only when needed. The graphics combo will be joined by a 2.4GHz Intel Core 2 Duo P8600 processor, 4GB of RAM, a 250GB hard drive and a nine-cell battery.
Far from all powerful, we reckon, but there will be a number of optional upgrades available. Choose to crank the specification up and you could get yourself a pair of GeForce GTX 280M GPUs in SLI configuration - on top of the GeForce 9400M IGP, remember - along with a quad-core Intel Core 2 Extreme processor, up to 8GB of DDR3 memory, a 512GB solid state drive, Blu-ray functionality and a 1,920 x 1,200 edge-to-edge LCD.
What that'll cost remains to be seen, but we're surprised not to see Intel's Core i7 thrown into the mix.