MSI has announced today that its latest G-Series notebook, the GX723, will hit UK stores at the end of May and be priced at approximately £999.
Wanting to continue to offer the mobile power associated with the series, the GX723 is equipped with a 2GHz Intel Core 2 Duo Mobile T5800 processor, 4GB of RAM and NVIDIA's GeForce GT 130M graphics.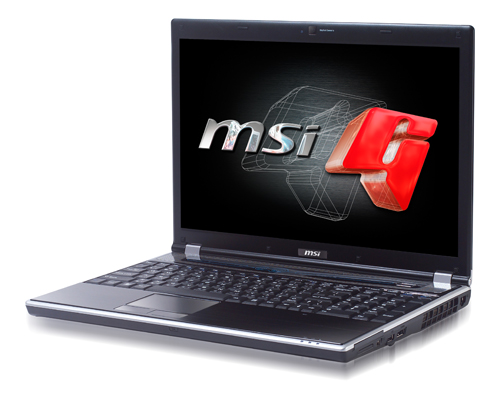 Ample amounts of power, we reckon, and like the MSI GT725 reviewed by HEXUS earlier this year, it features a 17in screen that provides a 1,680x1,050 resolution.
Sadly, unlike the GT725, the GX723 loses out on Blu-ray functionality in favour of a DVD Super-Multi drive - a likely key factor in getting the price tag under the £1,000 mark.
Elsewhere, users will find HD Audio - output by a built-in 4.1 speaker system - a two megapixel webcam, Gigabit Ethernet, Wireless N, a four-in-one card reader, three USB ports, eSATA and HDMI output, too.
Measuring 395mm x 278mm x 35mm and weighing 3.2kg, it's identical in terms of dimensions when compared to the existing ATI-flavoured GT725. Fortunately, it's without the loathsome red-striping associated with the G-Series and opts instead for a classier black-and-silver finish.
However, not of all the potential problems we identified with the GT725 appear to have been remedied. The GX723 still appears to feature a cramped keyboard, as well as what we've previously found to be a frustrating touch-sensitive panel. As you'd expect, however, it does include a number of MSI's easy-access goodies - including Turbo Drive and ECO Engine Power Management.
Interested? It'll be available from all major UK-based etailers at the end of the month.