Due partly to their MacBook Air-like dimensions, MSI's X-Slim notebooks have managed to grab a fair few headlines in recent months.
We laid our eyes on the first X-Slim system - the 13.4in X340 - at CeBIT in March, and MSI followed up earlier today with announcements for the 14in X400 and the promising 15in X600, too.
At under an inch thick, they're pretty stylish portable systems, but we've yet to see any at retail in the UK. Fortunately, the wait is coming to an end as MSI tells us that X340 is now available for pre-order and will be shipping to customers in June. The bad news? It'll be priced at £859.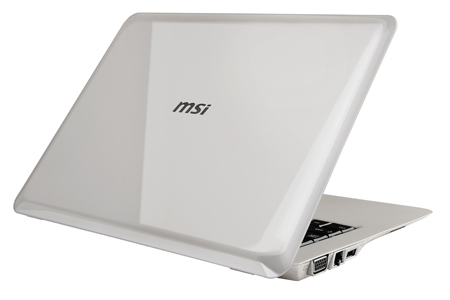 Now, £859 is still £412 cheaper than a MacBook Air, but there are a few points worth considering. MSI's X-Slim X340 features Intel's 1.4GHz Core 2 Solo ULV SU3500 processor, coupled with a Intel GS45 + ICH9M-SFF chipset. Apple's ultra-thin alternative, on the other hand, sports a 1.6GHz Intel Core 2 Duo part.
Furthermore, graphics on the X340 come courtesy of an Intel GMA 4500MDH IGP. A far-less potent solution than the GeForce 9400M powering Apple's system.
To MSI's credit, the system does feature 2GB of RAM and the 13.4in screen offers a decent resolution of 1,366 x 768. Elsewhere, there's Gigabit LAN, Wireless N and Bluetooth connectivity, too. That's rounded off with a 1.3 megapixel webcam, a 2-in-1 card reader, a 320GB hard drive and a 4-cell battery.
Not a bad little system in its own right, but a little underpowered for its £859 price tag, we feel.