We know what you're thinking; oh no, not another netbook. But bear with us, as this is one that's fairly unique.
It's called the MSI Wind U115 Hybrid, and it's armed with a selection of goodies that help it stand out from an otherwise-familiar netbook crowd. Outside, it features a traditional 10in 1,024 x 600 LED screen, but inside it's a bit more special.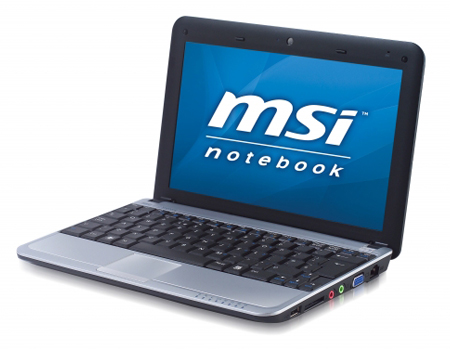 The Wind U115 Hybrid is powered by Intel's 1.6Ghz Atom Z530 processor, a Silverthorne part that in order to make up the Menlow platform is paired with a Poulsbo chipset - Intel's US15W.
That very chipset has a TDP of just 2.3 watts, far lower than the cheaper 945GSE chipset we're used to seeing and that isn't the only benefit that Poulsbo brings to the table, either. It's also armed with integrated Intel GMA 500 graphics - a potent little solution that's able to offer hardware-accelerated decoding of high-def media.
On top of that, there's MSI's Hybrid storage solution. The Wind U115 features both a 160GB hard drive and an 8GB solid state drive, too. The idea, in theory at least, is that when the hard drive isn't needed it can be disabled at the touch of a button to help preserve battery life.
Bring it all together, and MSI claims the Wind U115 can run for over 12 hours from a single charge of its six-cell battery. That's impressive, and this chappy on YouTube has managed to squeeze out a theoretical 17 hours by tweaking a few settings:
We don't have too much faith in Windows XP's reported battery life, but then again, we've never seen it report anywhere near the region of 17 hours.
Elsewhere, the Wind U115 Hybrid features the usual 1GB of DDR2 memory, a four-in-one card reader, VGA out, three USB ports, Gigabit Ethernet, Wireless N, Bluetooth, stereo speakers and a built-in webcam. Measuring 260mm x 180mm x 19-31.5mm and weighing 1.3kg, it's a familiar-looking netbook that's packing a little extra inside.
The bad news? Intel's Poulsbo chipset just isn't as cheap to produce, and the inclusion of an SSD is also likely to weigh in on the Wind U115 Hybrid's asking price. According to MSI, it'll be reaching UK stores in May and it'll be priced at £499. That's a mighty pricey netbook, but MSI will argue where else can you get so many hours of battery life?
Official press release: Over 12 hours battery life: MSI Wind U115 Hybrid