Introducing the Wind 2
Remember the Wind U120 netbook that MSI is said to be preparing? Well, it's coming along very nicely - so nicely, in fact, that MSI has pencilled in a global launch for mid November, just over a month away.
The system, dubbed the "Wind 2" and pictured below, is said to be redesigned to provide a "more professional look and feel". Granted, it's not as sophisticated as Toshiba's NB100, but it's a big step forward from the all-white and toy-like appearance of the original Wind U100.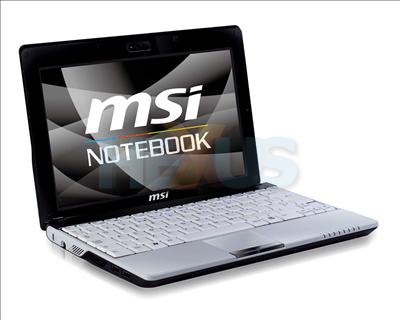 In terms of internal hardware, we're anticipating just minor changes. Intel's 1.6GHz Atom processor will no doubt remain, but storage capacity will increase - MSI tells us to expect a minimum 160GB hard-disk drive at launch. There won't be an SSD option, at least initially, but the Wind U120 will have one significant feature that was missing in its predecessor; 3.5G connectivity.
The 3G upgrade will put MSI's Wind 2 firmly up against the likes of ASUS' new-and-improved Eee and Dell's Mini Inspiron 9. MSI wasn't able to confirm any partnerships with mobile operators at this early stage, but we'd be surprised to see the system ship without the option of a mobile broadband package.
Battery life will come in the form of a three-cell or six-cell battery - no sign of a nine-cell, unfortunately - and MSI states that both will be available as an option to the consumer.
It looks a useful little netbook, but it isn't all good news. Despite "global" availability being scheduled for next month, MSI estimates UK availability for January 2009 - missing the all-important Christmas season. Furthermore, when it does arrive, it'll do so with a price-tag of £350 inc. VAT, an amount we feel is pushing the netbook limit.
Nonetheless, with the popularity of its first netbook - the Wind U100 - we'll be keeping a close eye on the Wind U120, it could be a well-refined rebirth of an already-useful system. Head on over to page two for a selection of additional images.