It was no secret that Dell's Mini Inspiron was on the way, and right on cue, the US-based manufacturer has made available its first netbook offering; the Dell Inspiron Mini 9.
The ultra-portable system measures just 23.2cm in width, 17.2cm in depth, and 2.72cm at its thickest point. Weight, for a system carrying a four-cell battery, is a light 1.035kg.
Unfortunately, and as we predicted earlier, Dell's Inspiron Mini 9 netbook follows a tried-and-trusted formula and offers precious little to help differentiate itself from the existing competition.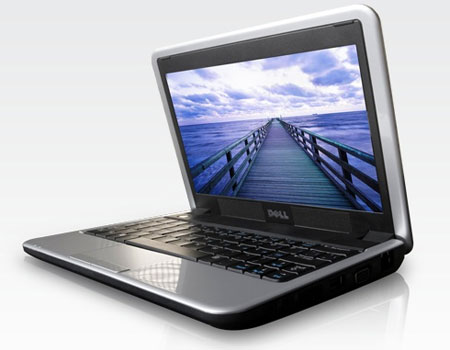 The aesthetically-pleasing Inspiron Mini 9, pictured above, features the familiar Intel Atom 1.6GHz processor, 1GB of RAM, integrated Intel GMA 950 graphics and an 8.9in screen with a 1,024x600 resolution.
However, storage and customisation options are severely limited. At launch, only a black £299 Windows XP-based model is available, together with a relatively-small 16GB solid-state drive. A cheaper Ubuntu Linux model, along with additional colour schemes, is expected to arrive at a later date, with 4GB and 8GB solid-state options.
As you'd expect, the Inspiron Mini 9 offers a 1.3 megapixel webcam, 802.11g Wi-Fi, Bluetooth and a one-year warranty. It's powered by a four-cell battery, and provides an internal speaker, three USB 2.0 ports, Ethernet, VGA out, audio jacks and a three-in-one card reader.
With many existing netbooks offering roughly the same feature-set, if not more, the Inspiron Mini 9 brings little new to the market. Indeed, the only added extra here is Dell's partnership with online-storage website Box.net. Each Inspiron Mini 9 customer will be treated to a Box.net basic plan, offering 2GB of free online storage - though, that'll do little to make up for the tiny 16GB solid-state drive.
Dell's US customers, however, face an interesting proposition - those who purchase a Studio 15, XPS M1530 or XPS M1330 notebook before September 9th can add an Inspiron Mini 9 to their order for just $99. That's quite a steal, but there's no sign of such an offer in any other markets.
Official product page: Dell.co.uk/mini