David 'Dadi' Perlmutter, executive vice president and general manager of Intel's Mobility Group, talked about the company is doing with respect to notebook-oriented research and development.

Reiterating a theme that's been voiced before, he stated that, this year, according to most analysts, notebook shipments were due to eclipse desktops' for the first time.

Mobile computing is where it's at, Perlmutter opined, but reckoned that there was no one-fits-all category - and notebook designs needed to cover all facets of the market, from ultra-light models to super-powerful desktop replacements.

Quad-core mobile chips

Addressing the power user, and doing its bit as a CPU and core-logic manufacturer, Intel officially announced the mobile quad-core processor, based on the 45nm Penryn core, and sapping a maximum 45W under load.

The four-core chip - Intel Mobile Core 2 Extreme QX9xxx - will be shipping this quarter in designs from Dell, HP, and Toshiba, we were informed.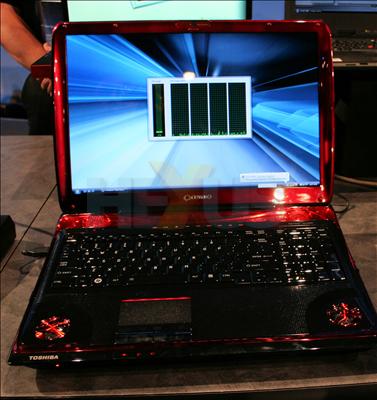 Here's an engineering-sample Toshiba Qosmio featuring a juicy quad-core mobile processor.

Centrino 2

Moving down to mainstream models, Intel showcased the Centrino 2 platform, released earlier this month, which comprises of a mobile Penryn-based CPU, 45-series chipset - integrated or discrete graphics - and 802.11n WiFi. A Sony laptop was shown switching between discrete NVIDIA graphics and IGP modes, to save battery life, which amounted to a 9Wdelta in idle mode.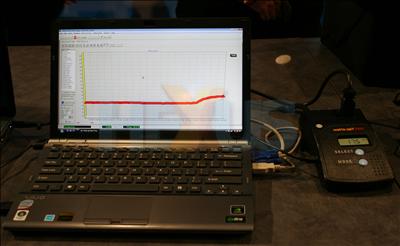 What will be interesting is to compare IGP-based Centrino 2 against AMD's also-nascent Puma platform, and we have such a review coming up imminently.

Packaging

First brought to popular attention with the Apple MacBook Air, Perlmutter confirmed that future mobile-oriented Intel CPU and chipsets will be manufactured in reduced-size packages, roughly two-thirds of what they ship in today. Makes sense for smaller and smaller netbooks, we suppose, and it does a little to help reduce BOM costs.