Q: What is it that ASUS' Eee, MSI's Wind, Dell's E and Acer's Aspire One are all missing?
A: A touch-screen that swivels and converts your subnotebook into a subtabletpc!
Fortunately for Japanese lovers of all things tablet, Kohjinsha has a solution. Its newly announced SC Series, pictured below, is a sleek-looking subnotebook that packs a 7in touch-screen that'll swivel and fold to create a tablet PC.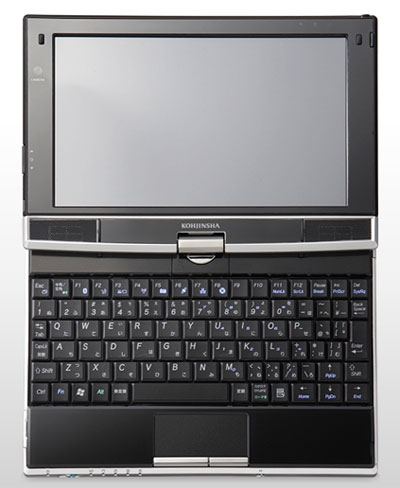 How's that for handy? There's more to it than just a twisty screen, too. The SC Series is keeping up with the likes of ASUS' Eee, it's powered by a 1.33GHz Intel Atom Z520 processor and provides 1GiB of RAM. Storage comes in the form of a 60GiB hard drive - there doesn't seem to be any mention of SSDs, but we're hopeful they're an option.
The device features a built-in TV tuner and GPS functionality, as well as a DVD drive, Wi-Fi, Bluetooth, Ethernet, Webcam, multi-card reader, ExpressCard and USB ports. Phew!
The stylish portable weighs just 798g, and you can wear it like a handbag thanks to the dashing carry handle pictured below. What's not to like?
It all looks like a fun little package, but there's a few downers worth noting. The SC Series' OS is listed as Vista Home Premium - we dread to think how sluggish that would be with an Atom processor and 1GiB of RAM.
The bigger problem, however, is that it costs ¥99,800 in Japan. If it were to ever reach our shores, it'd do so at around £470. Still, we'd be tempted to buy one just to be a little different.
Official product page: Kohjinsha.com