The breeze has certainly been blowing in MSI's direction here at COMPUTEX '08, where the Wind notebook is luring in huge audiences.
Today, we spent a little time with MSI's little lappy and had the opportunity to speak to Eric Van Beurden, MSI product marketing manager.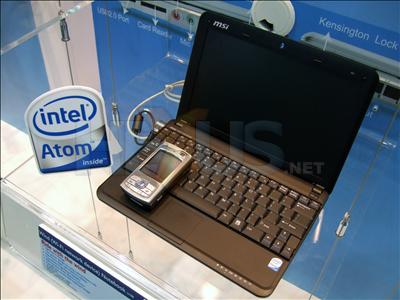 The Wind notebook, available in 10.2 or 8.9in models, packs a 1.6GHz Intel Atom processor and up to 2GiB of DDR2 memory. It's the latest low-cost ultra-portable notebook to go up against ASUS' Eee, but it's one that's proving to be a worthy challenger.
The key feature of MSI's Wind, in our opinion, is the delightful keyboard. On a device this small, we'd expected to find typing to be a chore - it was anything but. The keyboard utilises as much of the device's frame as it can, and it shows - there's space between each key, and it feels entirely fluent in use.
Quite a few have complained about MSI's chosen touchpad, stating that it's too small. We'd have to disagree, users with medium to large sized hands will find there's enough room to rest your palms alongside the trackpad when using the keyboard. That convenience, we feel, is worth sacrificing a little touchpad space.
The device isn't lightning quick, as you'd expect, but the Atom processor is more than adaquent and the 1024x768 LED screen is easy on the eye. The device itself comes in a shell that isn't quite as glossy as the ASUS Eee, giving it a more sophisticated look. There's three USB ports, built in 802.11b/g WLAN, Bluetooth, 1.3 megapixel webcam and around five hours of battery life.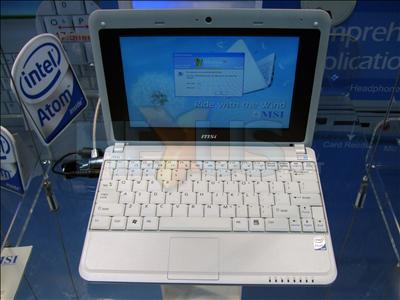 So far, so good, but, there are a few downsides. MSI has opted to provide more storage, and both the 8.9 and 10in models will utilise a standard hard disk, as opposed to a more robust solid-state drive. The 10in Wind is confirmed to provide 80GiB of storage, but the 9in model hasn't yet been finalised.
Furthermore, the ample screen and hard disk result in a larger, and heavier notebook. It isn't a whole lot more, but it is noticeable. Linux fans may also have cause for concern, MSI's Eric van Beurden states that we may initially be limited to a Windows XP version in Europe, with Linux being offered at a later date.
These problems, it should be noted, are apparent in the 10in model. The 9in Wind is another matter, it's a problem in itself. At present, the 9in Wind offers the same shell and features as the 10in alternative, only, with a smaller LED screen surrounded by a black border. You'd have to be slightly mad to opt for the 9in Wind, and to make it more appealing, Eric tells us that MSI plans to cut the cost of the smaller model by cutting back on features.
Expect, therefore, the 9in Wind to show up with a smaller hard drive, a possible lack of Bluetooth and maybe one or two other items missing from its arsenal.
There's no need for concern just yet, mind you. We've spent a fair amount of time with the 10in model, and we can't help but want one. It'll be landing in the UK in late-June, at a cost of £329, and will be available in white, black and pink. It'll be followed by the 9in model in late August, along with additional colours and printed designs.
If you're still struggling to choose a low-cost ultra-portable, here's one for you; Eric tells us that MSI is well underway on "Wind 2", but we won't see that until '09, at the earliest.
There's also Acer's Aspire one to consider, we'll be providing our first impressions of that "one" shortly - stay tuned.