We knew ASUS would unveil a 10in variant of its popular Eee PC here at COMPUTEX '08, but we assumed it would just slap the same innards into a bigger shell.
Our sincere apologies to ASUS, we were wrong. At the ASUS stand today, we found out that the 10in Eee PC, dubbed the Eee 1000, will in fact offer more than a bigger screen - it'll also pack double the RAM, and quadruple the storage.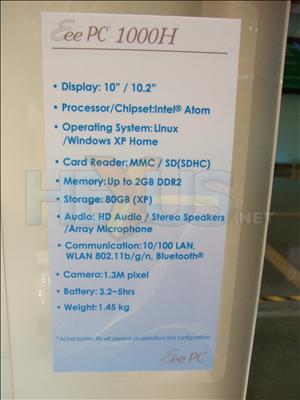 As the above spec-sheet shows, The Eee PC 1000 will be available with a 10 or 10.2in screen, and will feature an Intel Atom processor. It'll provide up to 2GiB of DDR RAM, double the amount available in the Eee PC 900/901, and provide 80GiBs of storage capacity for XP-based machines. We don't know how much storage the Linux alternative will offer, but with COMPUTEX having not yet officially started, ASUS weren't keen on providing further details.
We were previously worried about the potential cost of the larger Eee, and seeing as all previous Eee PCs have utilised SSDs, we're assuming that the Eee PC 1000 will feature an 80GiB SSD, as opposed to a conventional hard disk. If, indeed, that is the case, this thing could be more expensive than we'd originally dreaded.
The Eee PC 1000 wasn't yet out in the open, but we'll be sure to get a price, and further details, when COMPUTEX kicks off tomorrow.