ASUS only released its 9in Eee PC 900 on May 1st, and it's yet to launch the Atom-powered Eee PC 901. Nonetheless, that hasn't stopped the Taiwanese manufacturer from planning ahead.
ASUS' chairman, Jonney Shih, sent out a COMPUTEX invitation to the media that provides the following little tidbit of useful information:
"ASUS is looking forward to welcoming you during Computex 2008 in Taipei, Taiwan, for the ASUS' 08 Computex Trilogy of launch events. We would also like to specially extend an invitation to you to attend the official global launch of the new Eee PC™ 901 and 1000 series."
As it turns out, that Eee PC 1000 is already on display at ASUS' under-construction stand: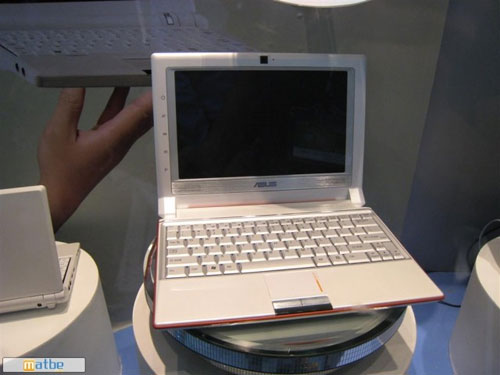 There aren't any further details just yet, but we're assuming the 10in model will utilise an Intel Atom processor, pitting it firmly against MSI's 10in Wind.
We don't yet know the cost of ASUS' new Eee additions, but with the Eee PC 900 currently priced at £329, we dread to think what the Atom-powered 9in and 10in models will fetch. Has ASUS forgotten the goal of low-cost ultra-portable laptops?