Back at the start of May, Intel teased some details of the upcoming Project Athena laptop design initiative. Now at Computex 2019 the firm has fleshed out the specs and design goals, and announced five new partner laptop designs which are aligned under the Project Athena 1.0 spec, which feature 10nm Ice Lake processors.
Intel says that Project Athena is based upon "years of research to understand people's needs, challenges and expectations of the laptop". Thus, it can now design laptops with innovations "rooted in human understanding". It found that there are three big wishes for laptop users; "It helps me focus, it adapts to me, and it is always ready". Intel addresses these desires in a number of ways, as is broken down in the diagram below.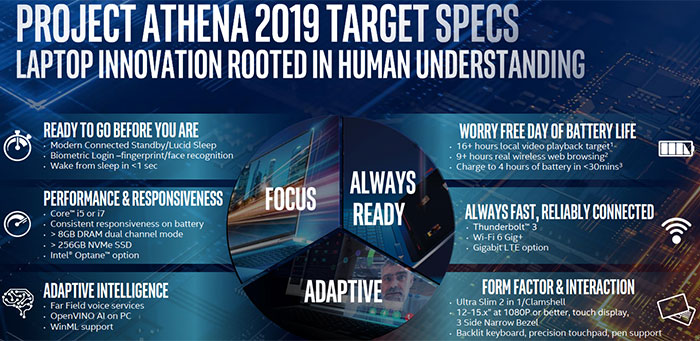 From the woolly human desires Intel has distilled some nuts and bolts spec improvements that need to be focussed upon. It means that Project Athena laptops will feature Core i5 or i7 processors for responsiveness, a minimum of 8GB RAM, a minimum of 256GB NVMe SSD (with Optane option), all-day battery targeting 9+ hours real wireless browsing, offer modern connected standby so wake from sleep in under a second, offer fast biometric logins, they will come in ultra-slim and 2-in-1 clamshell designs with 12-15-inch touch displays, have fast modern connections such as Thunderbolt 3, Wi-Fi 6, and Gigabit LTE options, and use AI plus far field voice services.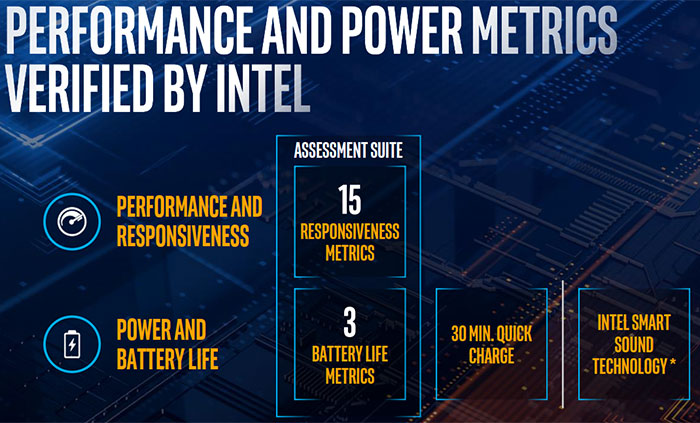 The first wave of laptops meeting or exceeding the Project Athena 1.0 spec are being launched at Computex and are expected to become available in H2 this year. Five were shown off on stage by Intel a few hours ago; the Acer Swift 5, Dell XPS 13 2-in-1, HP Envy 13-inch Wood Series, and Lenovo Yoga S940.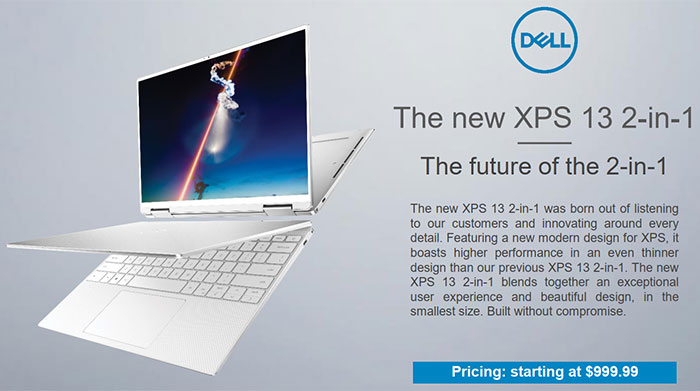 Dell shared some information about its new XPS 13 2-in-1 at Computex today. It claims that this modern actuvely cooled Project Athena design offers up to 2.5x more performance compared to its fanless Y-series processor packing predecessor. Despite the performance bump the new 2-in-1 still managed up to 16 hours of battery life and is about 8 per cent thinner too. The new design is powered by a 10nm Ice Lake processor up to a 10th-gen Core i7-1065 G7 processor. As you read earlier, these processor feature Sunny Cove cores and Iris Plus graphics.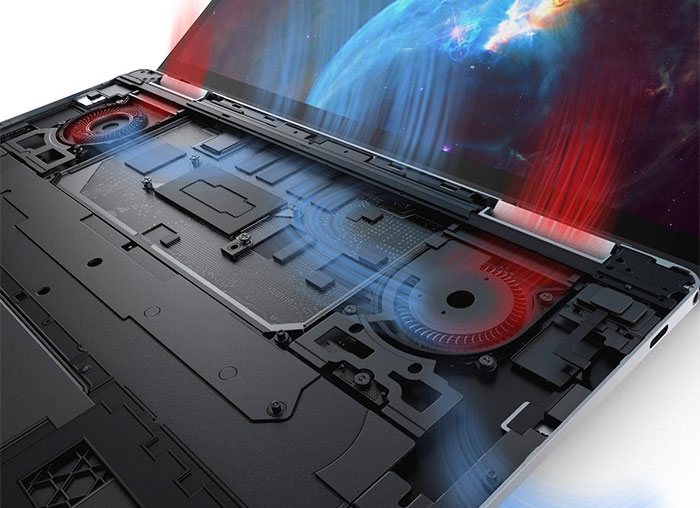 Dell has moved from a 16:9 aspect panel to a new 16:10 ratio 13.4-inch panel in 1,920 x 1,200 and 3,840 x 2,400 resolutions - apparently delivering a "7 per cent larger viewing experience". Both panels can hit 500nits and the 4K choice offers 100 per cent sRGB and 90 per cent DCI-P3 colour.
Further enhancing this 2-in-1 proposition is the edge-to-edge MagLev keyboard, and 19 per cent larger touchpad.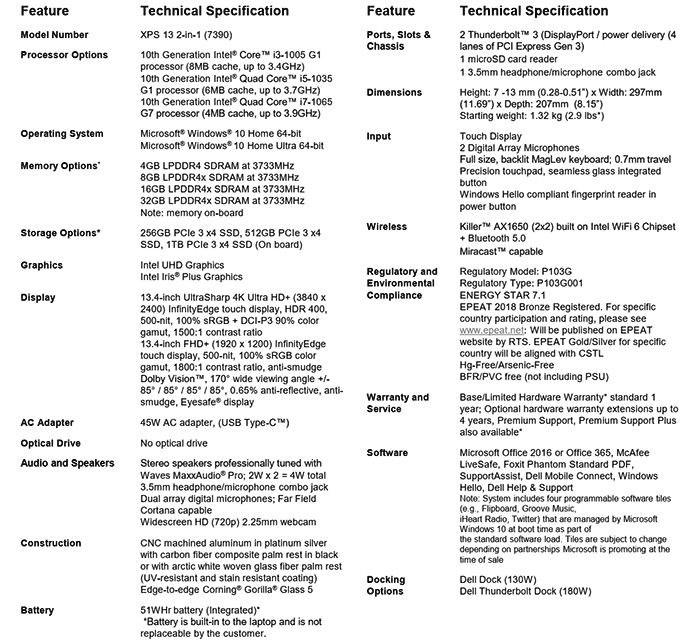 The new Dell XPS 13 2-in-1 will be available from July, starting at $999.99.