Nvidia has unveiled the Nvidia Studio creative platform at Computex 2019. Nvidia Studio is a certification program where high-end creator PCs are designed to meet Nvidia's requirements of an RTX GPU, and run the Nvidia Studio Stack of specialised SDKs and dedicated Studio Drivers. Furthermore, Nvidia supports the scheme with "rigorous hardware and software testing for top creative applications and workflows".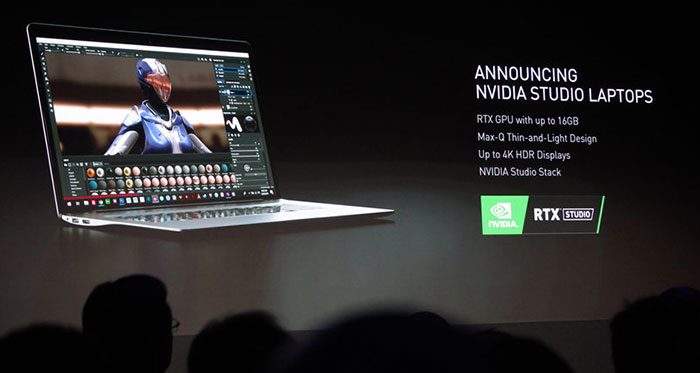 Seventeen new Nvidia Studio creative laptops were unveiled at Computex today. Devices sporting the new RTX Studio badge will be sold and marketed by the likes of Acer, Asus, Dell, Gigabyte, HP, MSI and Razer. Armed with an Nvidia Studio laptop, designers will be able to "create at the Speed of Imagination," claims the Nvidia marketing department.
The goal seems to be to shift more designers from CPU-based rendering to GPU-accelerated rendered graphics. However, it is hard to think that anyone working in the target apps such as Autodesk Maya 2019, Autodesk 3ds Max 2020, Blackmagic Design DaVinci Resolve 16, Daz3D Daz Studio, and Unreal Engine 4 will be unaware of the benefits of a powerful dedicated GPU. Instead it sounds like a branding barrier, like Intel's Ultrabook initiative.
"Nvidia Studio pairs RTX GPUs, which enable real-time ray tracing, AI processing and high-resolution video editing, with studio-grade software to surpass the growing demands of today's creators," said Jason Paul, general manager of GeForce software and technology at Nvidia. "The new RTX Studio laptops are the perfect tool for creatives who need desktop-class performance while on the go."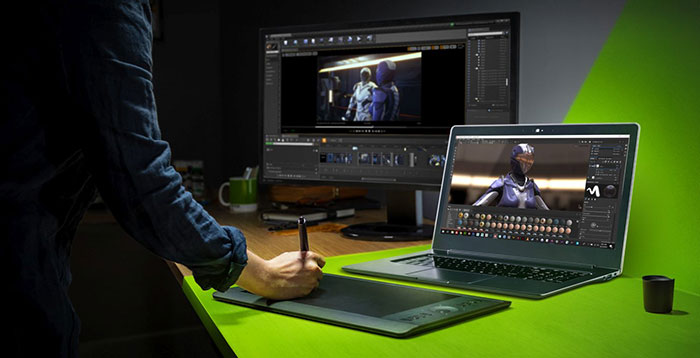 As well as the consumer RTX GPUs were are very familiar with (the GeForce RTX 2080, 2070 and 2060 GPUs), Nvidia Studio machines are being sold with the newly announced Quadro RTX 5000, 4000 and 3000 GPUs. This hardware plus the Nvidia Studio Stack of specialised SDKs and dedicated Studio Drivers means that a Quadro RTX 5000-based laptop, which includes 16GB of graphics memory, the largest available in a laptop, can edit video and render 3D imagery up to 7x faster than a MacBook Pro - and work on complex and large models that wouldn't be practical otherwise.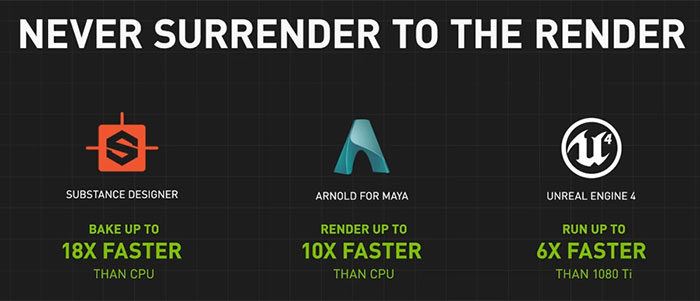 Nvidia SDKs and APIs help developers make the most of the hardware, meanwhile Nvidia Studio Drivers undergo extensive testing in top creative apps from the likes of Adobe, Autodesk, Avid, Blackmagic Design, Epic, Maxon and Unity. The Nvidia Studio drivers are available today, optimised for many key creative apps.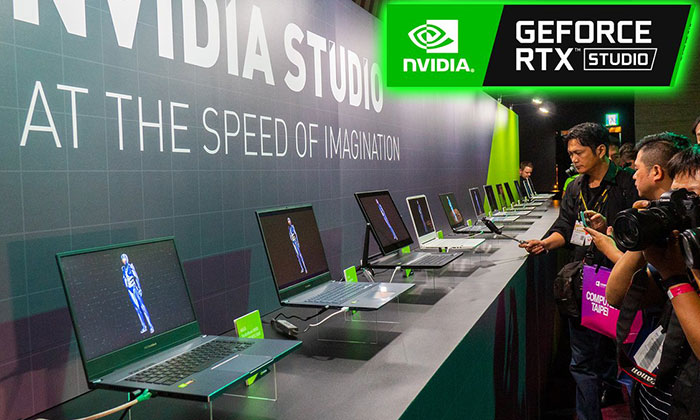 You will be able to get your hands on the first RTX Studio laptops starting from June. Pricing starts at $1,599, depending upon specs and features.