At $3,299, is this the ultimate designer notebook?
We've seen the ASUS Lamborghini VX3 notebook on display at various events this year. We had our eyes on it at CES in January, and again at CeBIT in March. Each time we see it, we secretly want it.
It isn't so much as the Lamborghini branding, it's more to do with the attention to detail. The leather wrist rest - complete with Lambo-stitching, the sapphire crystal webcam panel and the titanium alloy hinge backbone are the elements that really leave us with an "ooooh" expression on our faces.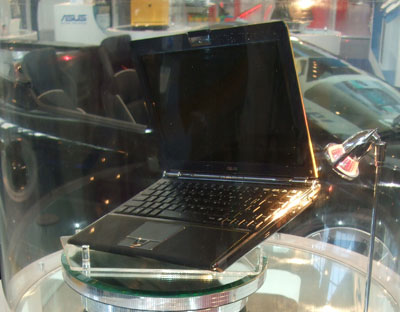 The specification, though not quite to the $3,000 standard, isn't bad. The VX3 offers a 12.1in WXGA LCD and features an Intel Core 2 Duo T9300 CPU. There's 4GiB of DDR2 RAM, a 320GiB hard disk and an NVIDIA GeForce 9300 graphics card. In keeping with the sleek Lambo design, the notebook measures 12 x 8.66 x 1.22in and weighs around 3.6lbs.
If you really want to stand out in the office, you can get the VX3 in black or yellow for $3,299. Alternatively, you could get yourself eleven of ASUS' 2G Eee PC notebooks, but then, they don't have the Lambo badge and you wouldn't be oozing cool now would you?