Earlier today I wrote about Dell's gaming PCs and accessories, mostly made under Alienware branding. That writeup included details about the Alienware Area 51m laptop with upgradable CPU, CPU, memory and storage. Of course Dell has a large portfolio of business, general purpose and content creator style PC desktops, laptops and accessories on show at CES 2019 and I will highlight some of the new products from this segment below. Mostly I will focus on the new "perfected" XPS 13 laptop, and the new Latitude 7400 2-in-1 with '24hr' battery life.
Dell XPS 13 (9380)
HEXUS reviewed the Dell XPS 13 (9370) as recently as June 2018 and now here we have the new version that Dell claims to have "perfected". That comment cheekily refers to one of the common complaints of previous gen modern XPS 13 laptop reviewers - the placement of the webcam on the screen's lower bezel - practically turning it into an up-the-nose cam. With the arrival of the Dell XPS 13 (9380), the systems maker explains the engineering steps it has completed to manage to locate the webcam back in the svelte upper bezel, and you can read more about that feat on the Dell blog.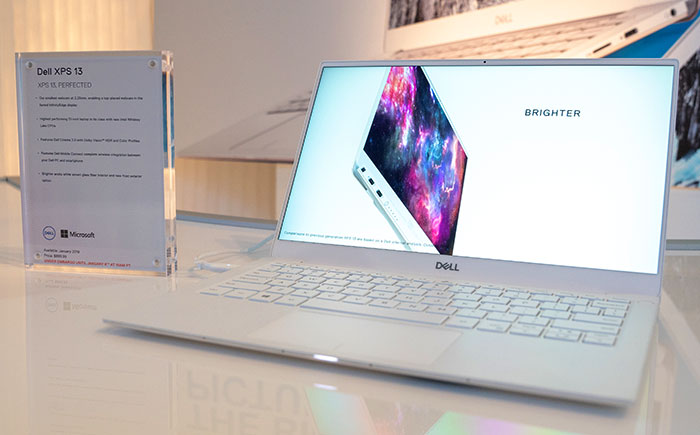 Surely that isn't all Dell has done with its popular portable PC you might ask, and you would be right. Though it still comes with a choice of Intel 8th gen Core processor and maintains its compact 13-inch, thin and light charm, there are some other changes that will be important to some.
Probably the most valuable change is thanks to the arrival of next generation Dell Cinema picture quality. This is the first Dell laptop to launch with Dolby Vision HDR with "highlights that are up to 40 times brighter, and blacks that are 10 times darker". Another change, but skin-deep this time, is the addition of brighter arctic white woven glass fibre interior and a new frost anodized exterior colour option, adding to the existing rose gold and white, and black and silver versions.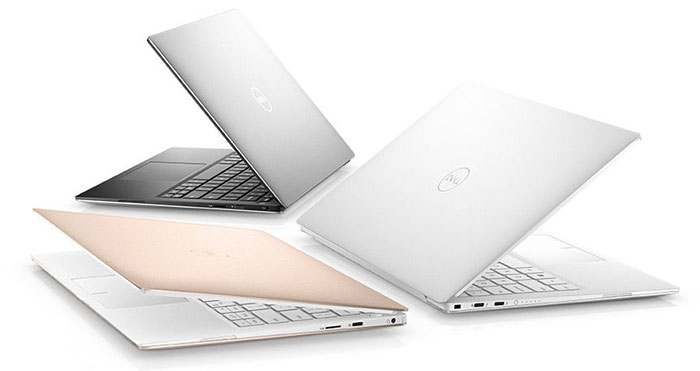 The new Dell XPS 13 (9380) starts at $899.99.
No updates for the XPS 15 were announced this time around, disappointing some, but it will be revamped with OLED with HDR, 100 per cent DCI-P3 colour gamut and 100,000:1 Contrast Ratio screen options in March (As will the Alienware m15 and Dell G7 15).
Dell Latitude 7400 2-in-1
The new Latitude 7400 is claimed to be the world's smallest commercial 14-inch 2-in-1 targeting up to 24 hours of battery life. Furthermore, the battery can be charged back up to 80 per cent capacity in an hour, according to Dell. It delivers another first for Dell - as it is the first Latitude to use the firm's ocean-bound plastics packaging.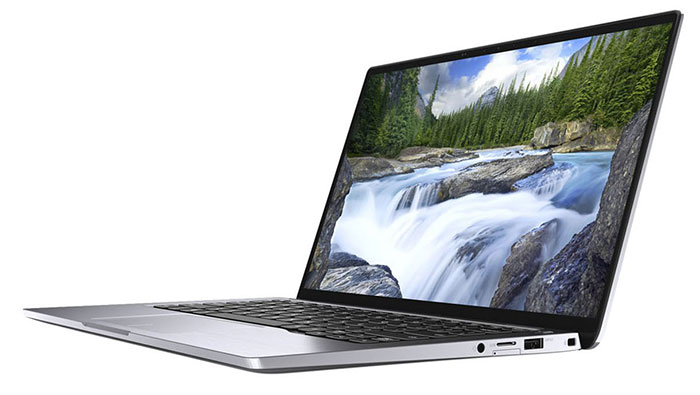 Other interesting specs for the Dell Latitude 7400 2-in-1 include the ExpressSign-in facility. This functionality is enabled by Intel Context Sensing Technology which "detects your presence, wakes the system and immediately scans for facial recognition to log you in with Windows Hello". Basically you can sit down next to your device and start computing without a touch or password, it will simply be ready. When you step away it can automatically lock the screen for security.
This new 2-in-1 isn't currently listed on the Dell retail site as it isn't expected to arrive until March. Thus the details we have for it are rather lightweight. However, Dell has indicated that it will be priced from $1,599 once it is released.
Dell Inspiron 7000 2-in-1
The latest 13-inch and 15-inch Dell Inspiron 7000 2-in-1 devices now include a full sized Active Pen garage in the hinge barrel. Meanwhile the new keyboard combines power button with a fingerprint reader as part of the main keyboard deck. Inspiron watcher might also notice the new aluminium body, narrow borders and a diamond-cut finish on the click pad edge.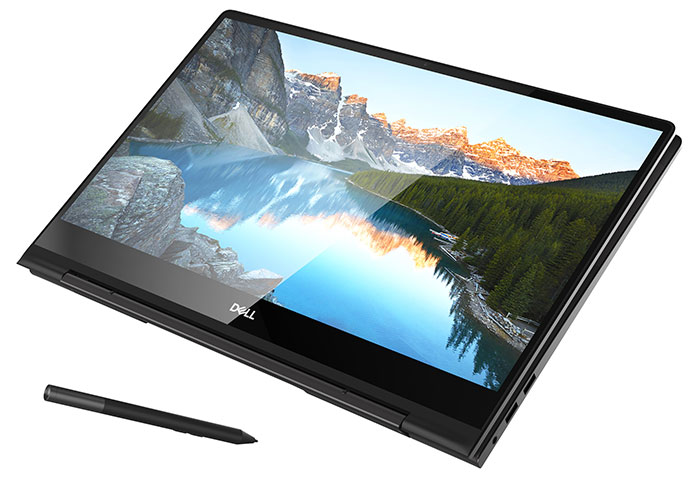 Inside you will get to choose from the latest 8th Gen Intel Core processors. Interestingly Dell has implemented Adaptive Thermal technology in these designs too. For example the device can auto change power profiles depending upon how you are holding the device and the task - keeping the heat down when it is on your lap, or ramping up performance when crunching data on your desk.
Like the new XPS 13, these new Inspirons will feature Dell Cinema. This isn't just about better screens and colours via DolbyVision and related tech. It also folds in CinemaSound 2.0 audio, and CinemaStream 2.0 video streaming buffering and prioritisation tech.
Again these new Inspirons aren't available to buy as yet, and we don't have prices as they don't go on sale until mid-year.