Centrino Atom-based UMPC debuts at CeBIT
UMPCs and small handhelds alike are all looking set for a comeback this year with Intel's Centrino Atom technology promising small gadgety delights across the board.
ASUS, as you'd expect, is one of the makers at the forefront of the UMPC resurgence and unveiled its R70 UMPC at CeBIT.
We grabbed some hands-on time with the device and, apart from being covered with the fingerprints of hundreds who had already groped the thing, it looked quite tasty.We're particularly fond of the funky looking A-Team red stripe, though it won't be to everyone's liking.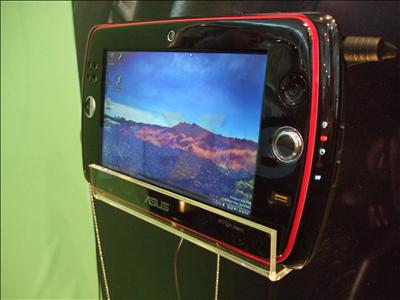 Unfortunately, we can't yet tell you how well the touch-screen performs as ASUS reps weren't able to get it working, despite their best efforts. We guess that's what happens when you let hundreds of people grope your new toy, it breaks.
The R70, which ASUS hopes will let us 'Go Anywhere' and 'Do Anything', packs an Intel Centrino Atom processor and Intel's Poulsbo chipset. The UMPC has built-in GPS for your sat-nav needs, plus 3.5G and WiMax for your web access and even has what ASUS calls a 'SunRead' touch panel - you can read it comfortably in the sun, you see.
It'll come complete with Windows Vista Home Premium or Business, 1GiB of 667MHz DDR2 memory and up to 120GiB of hard-disk space.
As with most UMPCs, the R70 provides a 7in screen offering 1024x600 resolution. It measures 238(w) x 136(d) x 24(h)mm and weighs 730g.
No word on pricing just yet but expect that all-important information soon.