Say hello to the Eee PC 900
What do you get if you take an ASUS Eee PC, increase the screen size to 8.9 inches, up the memory to 1GiB, increase the SSD capacity to 12GiB and boost the webcam megapixel count, too? We found the answer at CeBIT, it's an ASUS Eee PC 900.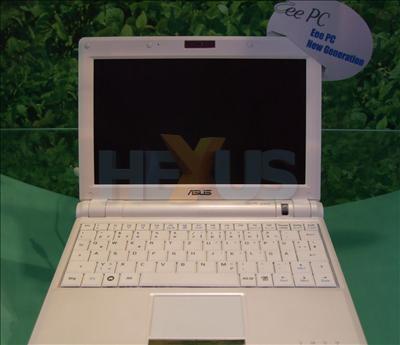 The biggest change on the new Eee PC, pictured above, is the increase in screen size. The new 8.9in screen provides a 1,024x600 resolution, up from the previous 800x480. It isn't just that easy mind you. The speakers, previously positioned either side of the screen, are now on the underside of the Eee where you may struggle to hear them. Still, we'd take the higher resolution any day.
As you'd expect, the bump in specification is accompanied by a bump in price. The Linux-based Eee PC 900, scheduled to reach Europe in April, will retail for €399. Pricing for the Windows-based model is still being determined but it'll be upward of €400.