Intel's Christian Morales formally announced its Centrino Atom family of processors yesterday, designed for the burgeoning mobile Internet devices (MIDs) market.

Now, the Centrino Atom family is nothing more than the official branding for its upcoming 45nm-based Silverthorne and Diamondville low-power processors, built with a Core 2 Duo-compatible instruction set and ranging in clock-speed from 800MHz through to 1,800MHz.

The energy-efficient duo's silicon measures less than 5mm x 5mm and the pair have a thermal design power (TDP) between 0.6-2.5W. Of course, that's an under-load figure and not necessarily indicative of general usage.

Diamondville is designed for what Intel terms the 'nettop' market, defined by entry-level, internet-enabled desktops that require a low-cost processor with an industry-standard ISA.

Silverthorne, on the other hand, is architected for mobile-oriented MIDs and 'netbooks' - defined as low-cost, Internet-centric mobile devices.

The demarcation line between MIDs and nettops is an arbitrary one, it seems, but we should begin to see Intel Centrino Atom-powered devices - be they Silverthorne or Diamondville processors - in Q2 2008.

Intel Centrino Atom makes up one part of the platform previously known as Menlow. Complementing the CPU and providing the necessary plumbing is the Poulsbo chipset, or Intel Centrino Atom Processor Technology, as it is now known.

The single-chip Poulsbo carries an integrated IGP that interfaces with discrete memory. A working sample of a complete MID harnessing both the Atom CPU and Poulsbo chipset is shown below, and it's clear that Intel still needs to leverage a bunch of additional ASICs – so not quite a system-on-a-chip, then.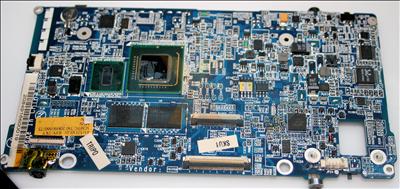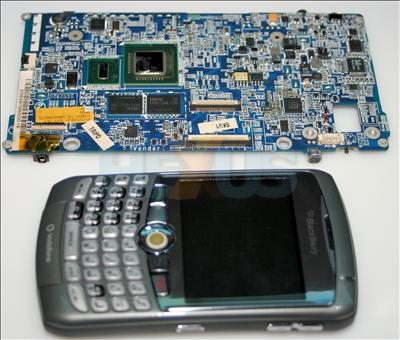 Not much larger than a BlackBerry 8310 Curve.