Lenovo has updated its Yoga 700 and Yoga 500 models at MWC 2018. These flexible 2-in-1 360-degree flip-around machines benefit from various design tweaks, 8th gen Intel Core processors, and voice command support via either Cortana or Alexa.
The Lenovo Yoga 730 delivers a number of updates to last year's 720. Highlights of the new model include a new processor, an Intel 8th gen chip, and some screen bezel trimming. Available in both 13- and 15-inch versions, only the larger model will have an option to equip an Nvidia GeForce GTX 1050. With either model size you can opt for UHD or FHD IPS touchscreen. Another intergenerational change as noted by Pocket Lint is a slant of the body design which makes the machine easier to hold in its various handheld modes.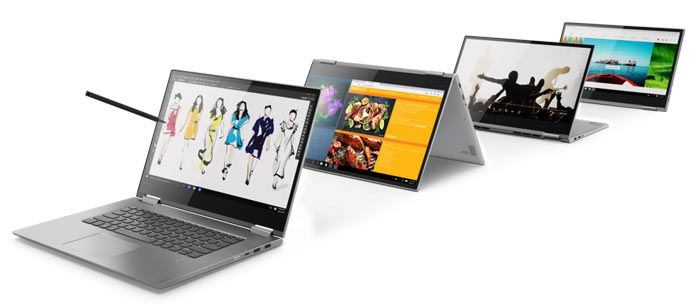 Other key specs of the Yoga 730 include the configurable 4/8/16GB of DDR4 RAM, and from 128/256/512GB/(1TB with 15-inch model) of PCI SSD storage. Ports include; 2x USB-C (Thunderbolt 3); 1x USB 3.0, 1x 3.5mm audio jack. You can connect up to 2x 4K displays thanks to those ports, says Lenovo. The 13.3-inch model measures 307 x 216 x 14.1mm and weighs 1.12kg. I don't have the dimensions but the 15-inch model weighs 1.89kg.
Complementing the quality visuals Lenovo has equipped JBL Speakers plus a Dolby Atmos headphone feature. You should be able to enjoy your multimedia content for up to 11 hours between charges (fast charging supported). If you'd rather use a stylus than your finger on the screen optional Lenovo Active Pen 2 is said to "provide the natural feel of a pen-on-paper experience," and delivers 4,096 levels of sensitivity.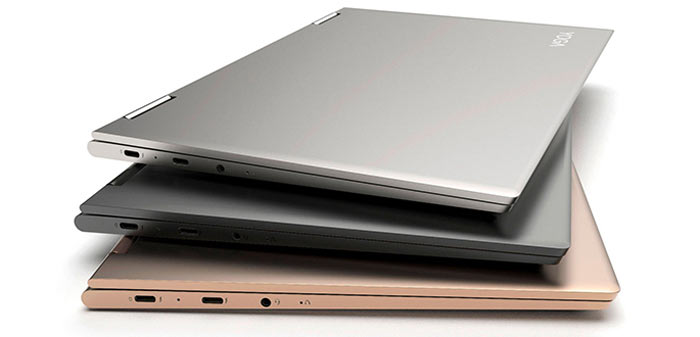 One other thing that Lenovo was keen to point out about its new Yoga laptops is 'AI power' thanks to the integrated Cortana and Alexa assistants. Fingerprint readers come as standard too, for quick secure logins via Windows Hello.
The Yoga 730 is priced from $880 in the USA.
What is known as the Yoga 530 in Europe is called the Flex 14 in the USA (successor to last year's Flex 5). This is a 14-inch mid-priced Yoga machine. The updated model shares many of the same enhancements delivered to the 700 series; new processor, tweaked build, integrated Cortana & Alexa AIs, and so on. You can't configure your Yoga 530 with a GeForce GTX 1050 though, your upper limit in this case is the Nvidia MX130 mobile.
The Flex 14 (Yoga 530) is priced from $600 in the USA.