Yesterday Qualcomm held its 2nd annual Snapdragon Technology Summit in Maui, Hawaii. Among the announcements made, probably the most interesting for PC enthusiasts concerned Always Connected PCs. Powered by Qualcomm Snapdragon 835 SoCs these devices boast fantastic battery life of 20hrs+ active use and up to 30 hours of standby to instant-on utility.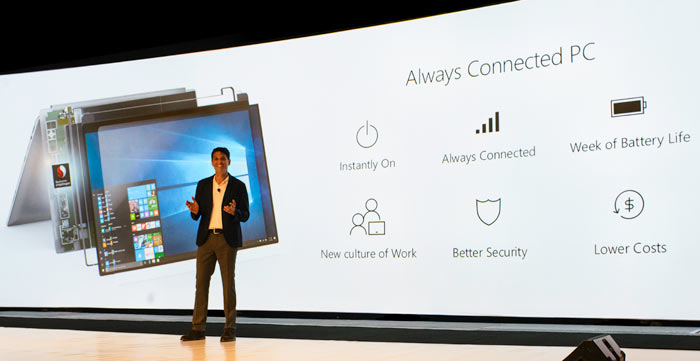 Microsoft's Terry Myerson, Windows and Devices Group EVP, went on stage to show off the first full-featured Always Connected PCs on the Qualcomm Snapdragon chipset running Windows 10 and a new, optimized version of Office 365. Two PC hardware partners had devices ready for Myerson to discuss; Asus and HP. Lenovo's Snapdragon-powered machine wasn't ready for the stage.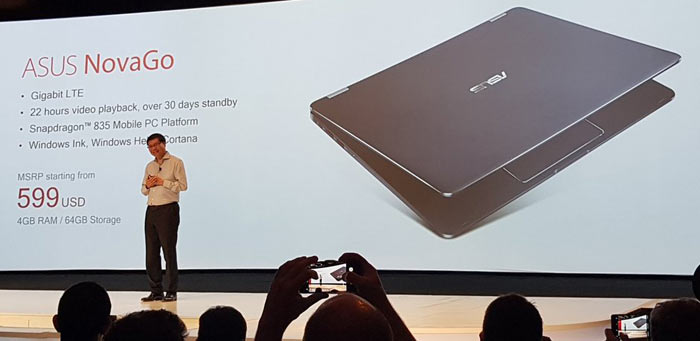 Myerson wanted to share his personal experiences of living with an Always Connected PC over the last few months. Over the last week, he said, "I watched the movie Moana with my daughter, worked in PowerPoint, browsed the web every day, reviewed budgets in Excel, checked email while waiting to pick up my son from soccer, marked up a few PDFs with Ink, played some games on the plane – all of this without plugging in my power cord".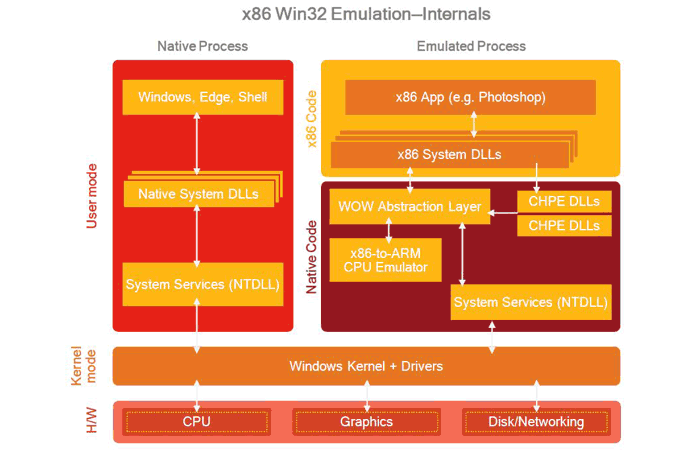 There have been some leaked reports about performance being lacking with these Arm-powered devices. However Myerson asserted his experience was "fast and responsive". We already mentioned the battery life benefits above in terms of active and standby use and in Myerson's life experience but what other benefits does an Always Connected PC deliver? The two main answers to that come from the smart-device-like response of these PCs. First of all Microsoft says the screen is instantly on, there is no wake-delay. Secondly the machines are, as per the name, always connected, offering a fast, safe and secure way to work, collaborate and communicate wherever you are (with cellular coverage).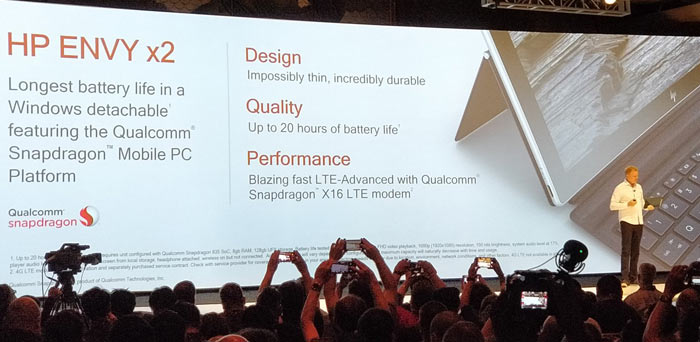 Happily we do have info about pricing and availability. The Asus NovaGo starts from US$599 with 4GB RAM / 64GB UFS2.0 storage (or an 8GB RAM / 256GB storage model at US$799). It will begin shipping in quantity before year end reported Mary Jo Foley on ZDNet. The HP ENVY x2 detachable will cost GBP£999 when it is released in February according to Tom's Hardware. The HP machine includes a keyboard and active pen.
UPDATE: official links for further information about the HP Envy x2 Detachable and Asus NovaGo Convertible.