Best New Product, Best LCD Screen


Not only did HEXUS have a booth at Computex 2006, we also took it upon ourselves to judge, weigh, conjugate and cogitate over the many and varied offerings on display by the multitude of manufacturers present.

In other words, we sat in a bar until 3am, arguing over what we thought was good, bad and indifferent until we came up with what we at HEXUS like to call the HEXUS Computex 2006 'Best of Show' Awards.

In some categories the competition was fierce, with the winners scooping an award by a mere whisker. In others there were clear winners and obvious 'also rans'. So, after much debating, even more beer and a rather large can of guava juice, so here in no particular order, are the HEXUS Computex 2006 Best Of Show Awards!
Best New Product: NVIDIA 7950 GX2
After much debating and a rather ferocious arm-wrestle, the NVIDIA 7950 GX2 won through over a wide range of new products. Runners up in this hotly contested category were the Toshiba HD DVD Drive in their Qosimo laptop and BenQ for the USB Blu-ray/DVD/CD combi drive. Presenting the Award for Best New Product is HEXUS' own booth babe, Paul Dutton and receiving the accolade on behalf of NVIDIA is a deeply moved Andrew Humber who, obviously on the verge of tears, launched into a very moving speech which we all totally ignored.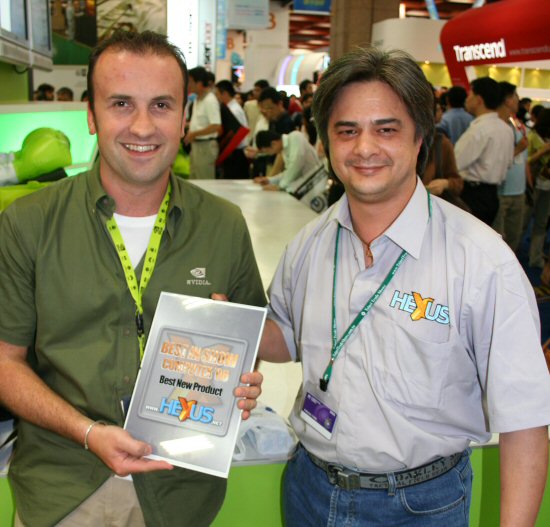 Best LCD Screen
Another hotly contested Award was that of Best LCD Screen. The competition for this Award was very stiff indeed, with the likes of Chi Lin's 47" touch screen LCD, Proton's 55" LCD and ATSC's LCD TV with MP3 and photo streaming. But after a very long and boring monologue as to why it was better than everything else, including Kiera Knightley, the BenQ FP241W LCD HD monitor won through. Presenting the Award to BenQ is the older than he looks Nick Haywood…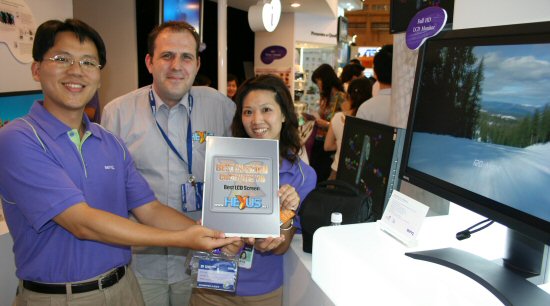 And look how chuffed BenQ were… realising just how hard it is to win an accolade from the critics at HEXUS, BenQ gave the HEXUS Award pride of place on the front of their stand.