A few hours ago CNBC published a video interview with AMD CEO Dr Lisa Su. The wide ranging interview was really aimed at investors rather than tech enthusiasts but it still provided some interesting insight into AMD's management and progress over recent years.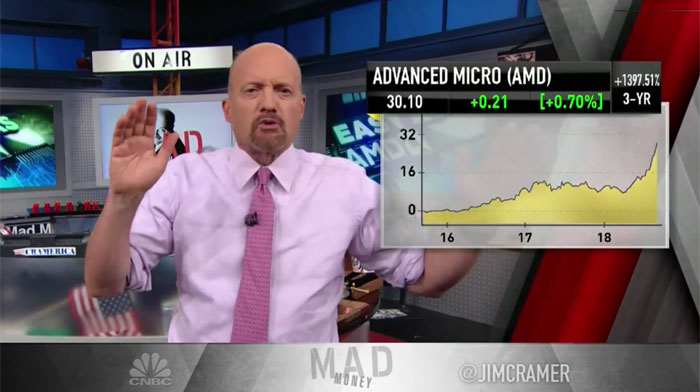 To begin, CNBC's Jim Kramer asked about AMD's progress, during SU's four years of stewardship, as the share price has risen from $3 to over $30. Su explained that "AMD always had great technology assets, but it was about putting those assets to work." Knowing what AMD is really good at and targeting those markets was very important, she added.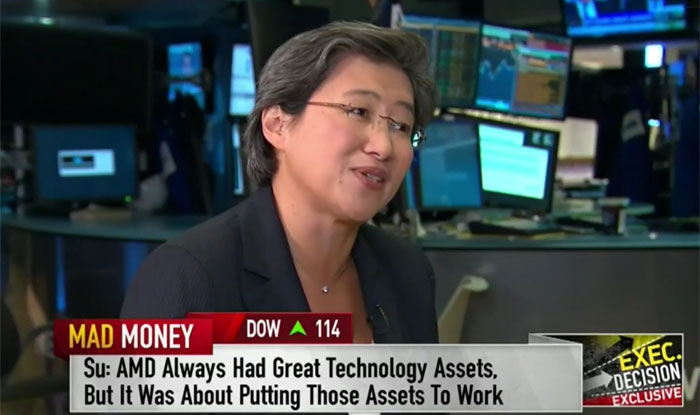 Su went on to assert that AMD is one of the very few companies that can address the needs of high performance computing customers, a $75bn addressable market. In the world as it is now, HPC isn't just relevant to enterprises and data centres etc, the technology is important for PCs and games consoles too, as these users want ever greater processing power.
Choosing where and where not to invest
CNBC's Jim Kramer then asked about how AMD could pull itself up, with its comparatively scant resources for R&D, marketing, and so on - to compete with the likes of Intel and Nvidia. Su explained that making the right investments and choosing where not to invest were critical to the growth we have seen. On her good decisions she cited architecture and process technology. Furthermore, three or four years ago mobile phones and tablets were the 'hot' sectors but Su decided that "those are not AMD". Interestingly, Su said AMD is making decisions now that end-users won't see the results of for three to five years.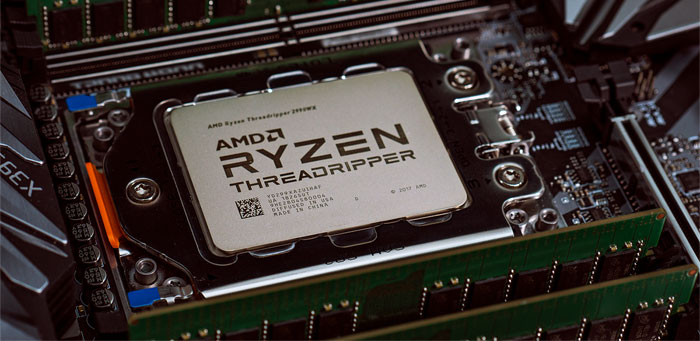 Su was asked about Intel's 10nm slip by the CNBC host. She replied that AMD's strategic roadmap doesn't rely on competitors not doing well. Moreover, AMD's CEO has noted that "Moore's Law is changing" and architectural and partnership decisions (like working closely with TSMC) have helped AMD's progress and kept it on the cutting edge.
Moving onto the GPU market, Su told Kramer that she thinks that there is plenty of room for competition with "multiple winners." AMD is looking to progress in both gaming and GPU compute applications.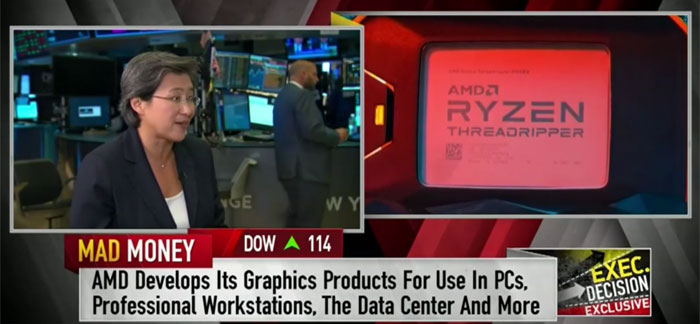 Next the interview considered AMD's semi-custom business. Here Su highlighted AMD's ability to work with separate competing partners and make them happy with their AMD components - each providing a differentiating "secret sauce" with which to sell their consoles.
Finally the interview wrapped up with Su saying that AMD still "has a ton of work to do" but is now in a great place in multiple prospering markets.
AMD CEO describes key gaming partnerships with Sony, Microsoft: We're helping them with their 'secret sauce' from CNBC.