Special guests?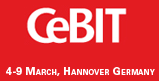 Three of Electronic Art's titles are featuring in this year's World Cyber Games, including Need for Speed: Pro Street, and Command & Conquer 3, so it came as no surprise to see that the company has brought their official tour bus along to this year's CeBIT.

Arriving at the hall today, before the officially opening tomorrow, was the huge branded lorry equipped with a stage and Rock Band kit to host what we believe to be a special performance of their new Rock Band game later this week.

We'll be heading down there tomorrow to see if they have someone special lined-up, don't get too excited though, it could well be a famous German band that you've never heard of...