Slides from a purported leaked AMD presentation to investors have come to light over the weekend. They are interesting as they reveal a little more detail than the tech press got provided, regarding launch timescales. In one particular slide, which will likely be of great interest to HEXUS readers, the launch time of the Vega GPU architecture is indicated.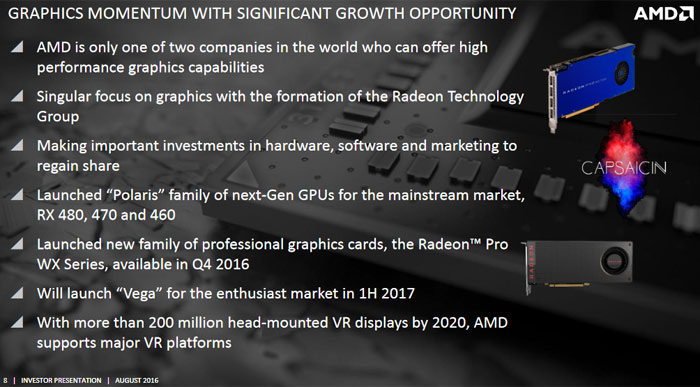 In a slide entitled 'Graphics momentum with significant growth opportunity', reproduced above, AMD indicates to investors that it "will launch 'Vega' for the enthusiast market in H1 2017". Taking the statement at face value that could put the launch date anywhere between January 1st and 30th June next year. The latter date is a full 10 months away. A full set of 29 slides can be found published at Scout Finance, found via TechPowerUp.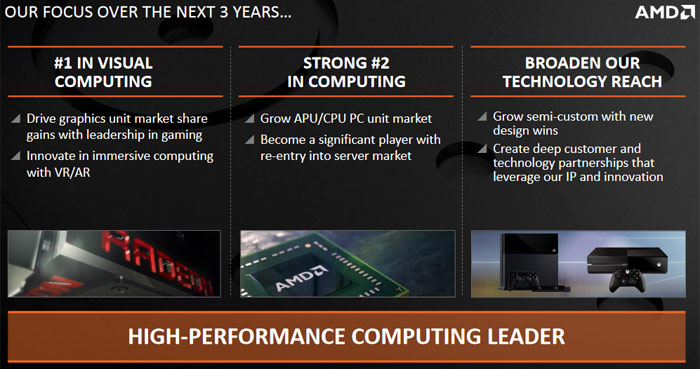 Not that long ago we were getting our hopes up for some kind of AMD Vega launch event this October. If there's anything in October it is now looking to be a pre-pre-pre launch event or some such PR stunt. The 'Graphics Momentum' slide doesn't give any indication of any follow up for enthusiasts between the Polaris GPUs and the H1 2017 Vega launch.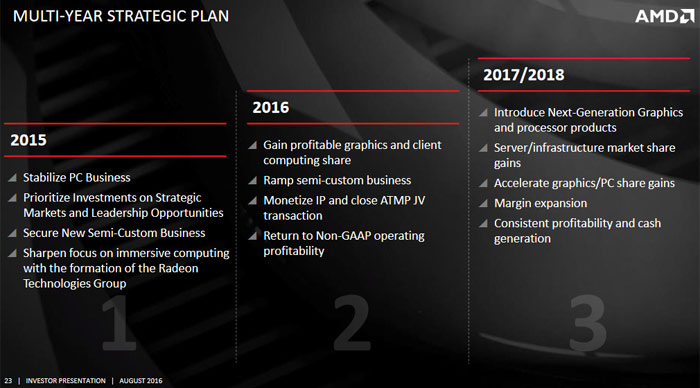 2017 will be key to AMD as it promises 'jam tomorrow' to investors, which are currently optimistic about AMD's claims – as judged by the share price. Looking at AMD's multi-year strategic plan slide to 2017/18, directly above, we can see some important moments coming up; the introduction of Next Generation Graphics and processor products such as Vega and Zen, accelerating graphics/PC share gains, server/infrastructure market share gains, and to become consistently profitable and enjoy increase margins.
On the topic of Zen we had some official performance and tech updates recently, thanks to the Hot Chips 28 conference. Zen processors will ship in volume early in 2017.