You've likely already read the comprehensive review of the Nvidia GeForce GTX 1060 Founders Edition on HEXUS. This time around Nvidia chose to let AIC partners simultaneously launch their own custom designs on the same day it launched its Founders Edition card. Picking through the press releases it seems like the partners have been busy, with the biggest graphics card makers producing between four and six SKUs. As you would expect, there are some packing very large high performance coolers, with GPUs clocked at decent 'OC' speeds. Meanwhile most vendors have also designed a short, compact single fan version with more modest GPU clocks.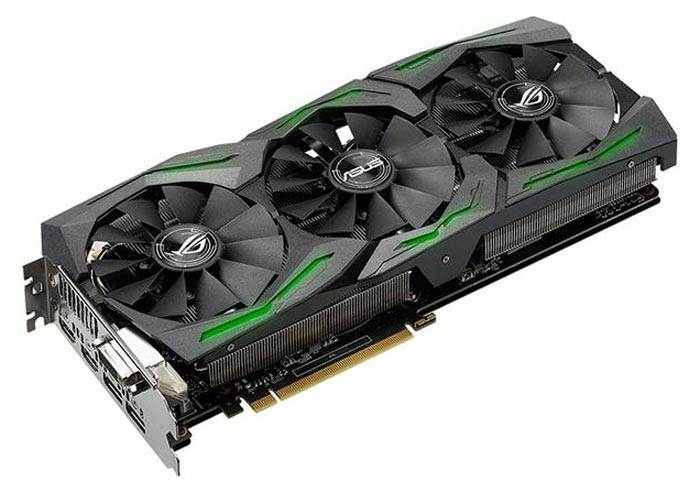 MSI has chosen to launch no less than six GeForce GTX 1060 variants. The product range lets users chose from two GAMING models equipped with the TWIN FROZR VI cooler, two Armour models with the Armor 2X cooler, and entry level designs with dual and single fans. MSI has thoughtfully produced a product specification table so you can easily make sense of its large lineup, see below.

Asus has launched five new GeForce GTX 1060 variants. In a news release highlighting its flagship GTX 1060, the ROG STRIX-GTX1060-O6G-GAMING, we also learn about its other models such as the ROG STRIX-GTX1060-6G-GAMING, a pair of 'DUAL' models and a 'TURBO' model with a single fan blower style cooler.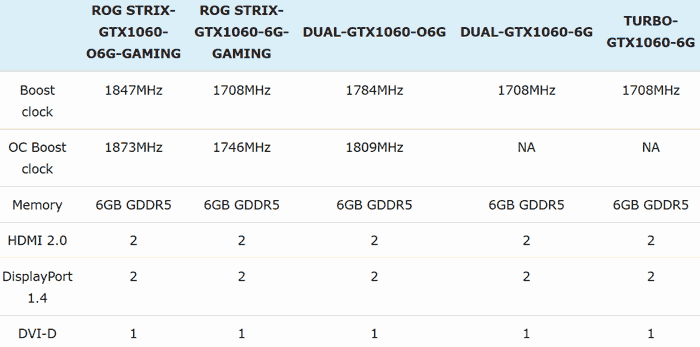 Again Asus has done the right thing by providing an easy to check over product table revealing product clock speeds, see above.
Gigabyte's quartet of GTX 1060 cards is led by the GeForce GTX 1060 G1 Gaming 6G. It employs a WindForce 2X cooler with Blade fans and RGB Spectrum lighting. With this cooler strapped on Gigabyte is confident enough to clock this card as follows:
Boost: 1847MHz/ Base: 1620MHz in OC Mode
Boost: 1809MHz/ Base: 1594MHz in Gaming

Other Gigabyte models incoming are the GTX 1060 D5 6G with WindForce 2X cooler but only a 25MHz default overclock. Two compact cards fill out Gigabyte's offerings and these are the GTX 1060 WindForce OC, and GTX 1060 Mini ITX OC with single fan cooler.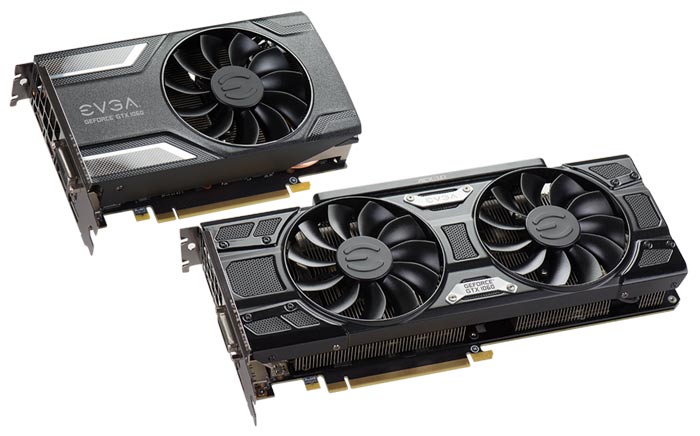 EVGA also launched four GeForce GTX 1060 graphics cards. Its flagship design is the EVGA GeForce GTX 1060 FTW GAMING ACX 3.0. It doesn't reveal the base/boost clocks of this model, or the next one down the list, the GTX 1060 SSC GAMING ACX 3.0. However, the ACX 3.0 has a good reputation for quiet and capable cooling capacity.

Lower down the EVGA ranks the SC GAMING model offers base/boost of 1607/1835MHz, and the plain vanilla GAMING card offers a base/boost of 1506/1708MHz. This last card is pictured above with the ACX 2.0 single fan cooler.
Last but not least Inno3D launched a pair of GTX 1060 cards into its now familiar Gaming OC and iChiLL ranges.
A wide range of GeForce GTX 1060 graphics cards are available to purchase from Scan Computers.