New kid on the graphics-card block, as far as NVIDIA's GeForce series is concerned, is ZOTAC.

The brand is the retail arm of PC Partner, a company that, far from incidentally, makes graphics cards for Sapphire.

It's difficult to differentiate yourself in a homogeneous market but ZOTAC's GeForce 8600 GTS tries to do that.

The card features an add-on LED display that shows the temperature of the board and the GPU.

However, the design is still in its early stages, as you can see from the shot below that we took at COMPUTEX.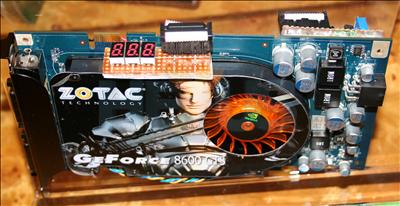 We're not wholly convinced that even the most ardent enthusiasts will want to spend time peering into their windowed chassis just to get a readout that will remain relatively static. Still, some innovation is better than nothing and it might make an interesting talking-point.