The world's largest VR expo, VRLA, was a sell-out event which took place on Saturday, at the LA Convention Centre. All the big names in VR you would expect were there including Oculus, Google, and Samsung. However, probably most interesting, to HEXUS reading PC enthusiasts, was the jostling between AMD, the event sponsors, and Nvidia. So what did the two big rivals in PC graphics show off to try and catch our hearts and minds, and eyeballs?
AMD at VRLA
The red team had plenty to talk about at VRLA, as you would expect as it was the main sponsor of the event. Roy Taylor, Corporate Vice President, AMD, delivered a Keynote on the Future of VR. Later attendees flocked to AMD powered VR experiences including Paranormal Activity and The Climb.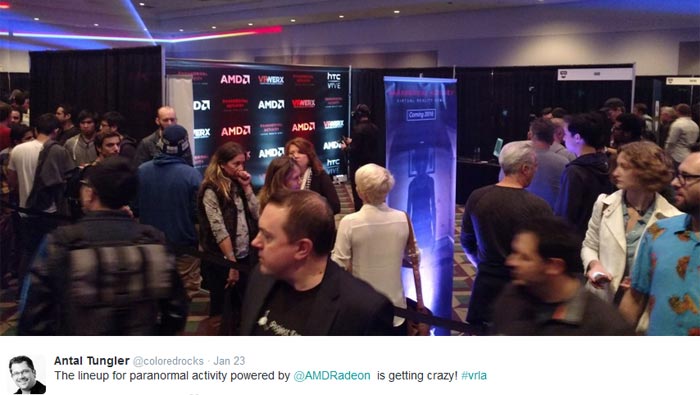 Perhaps most interesting to PC enthusiasts was the revelation that the hardware behind many of AMD's demonstrations was the Radeon R9 Fury X2. TweakTown spoke to Antal Tungler, PR Manager for AMD, who confirmed that the referenced 'Dual Fiji' machine utilised 2x Fiji GPUs on one card. Some HTC Vive HMD powered demos were reportedly powered by this graphics card. Performance PC maker Falcon NorthWest had at least one system powered by the 2x AMD Fiji GPU graphics card, but it also had some of its Tiki PCs packing Nvidia solutions.

Nvidia at VRLA
The green team was exhibiting GeForce GTX-powered VR experiences like Oculus Touch, combined with the Rift headset. It also trumpeted the AVADirect Sixsense VR PC, powered by EVGA GeForce GTX 980 graphics. Elsewhere at the expo it appears that attendees could enjoy a GeForce powered PC VR experience blasting zombies in the StarVR enabled The Walking Dead game by Overkill.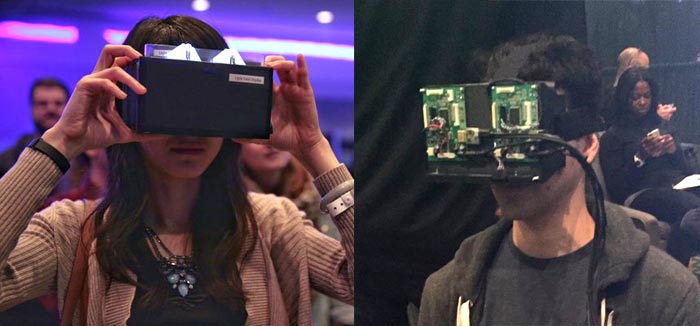 Nvidia's most eyebrow raising VRLA event highlight was the first public outing of its Light Field Display prototype. This may well be the VR headset that Nvidia previously announced it was collaborating upon with Stanford University researchers. It's hard to know what it might offer in experience/features compared to other headsets, but hopefully it will be more fully featured in Nvidia's upcoming GPU Technology Conference in April. I found two pictures, purportedly of the Nvidia HMD, which look rather different, see above.