July will see the release of Sapphire Technology's plethora of graphics card solutions based on AMD's HD2600 and HD2400 graphics processing units (GPUs).

The flagship of the HD2600 line-up will be the Sapphire HD 2600 XT ULTIMATE, power packed with a core clock speed of 800MHz, together with either 512MB or 256MB of GDDR3 memory, running at speeds of 1400MHz.

The solution boasts totally noiseless operation, thanks to a completely passive cooling solution that Sapphire have adopted on the HD 2600 XT ULTIMATE, with the company going on to explain how the ULTIMATE editions of their products are renowned for, as they quote, the key features of overclocking for enhanced performance and silent running.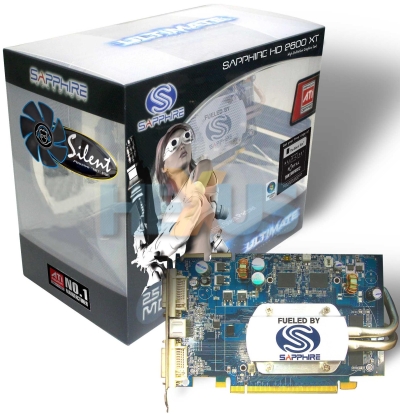 A 128-bit memory bus controller, together with the latest unified shader technology and 24 shader pipelines come as standard with the HD2600 powered solutions.

A standard HD 2600 XT SKU is also put forward by Sapphire, with core clock and memory speeds matching those of the ULTIMATE edition.

The HD 2600 PRO solution also offered by Sapphire, comes with core clock speeds of 600MHz and memory clock speeds of 1000MHz. Whilst Sapphire state that the HD 2600 PRO has a similar architecture to the higher end HD 2600 XT ULTIMATE and HD 2600 XT iterations, it utilises GDDR2 memory instead and is available with either 512MB or 256MB of memory onboard.

Moving towards the lower end of the market, the HD2400 powered solutions position themselves as cost effective, delivering 8 shader pipelines and memory fed by a 64-bit memory bus controller.

The HD 2400 XT features a core clock speed of 700MHz, married up with 256MB of GDDR3 memory running at speeds of 1400MHz, whilst the HD 2400 PRO is available in either 256MB or 128MB GDDR2 memory configurations running at speeds of 800MHz, teamed up with a core clock speed of 525MHz.

As a result of being powered by one of AMD's latest family of GPU solutions, all the SKUs feature DirectX 10 support, Shader Model 4.0 functionality and are Windows Vista Premium Ready.

Sapphire also boast how HDMI users will value the Multi-Channel 5.1 audio capabilities that are part and parcel of the graphics output, providing, what the company describes as, true audio visual support via an HDMI adapter, thereby allowing for connection to an HDMI ready TV.

Another part of the unique feature set is the presence of ATI Avivo HD Video and Display Technology with built in hardware UVD (Unified Video Decoder), benefiting the decoding speed of Blu-ray and HD DVD content. This, according to Sapphire, makes even the low end solutions announced, ideal for media centre applications.

Specifications are correct at the time of going to press, however are subject to change state Sapphire.

Read the press release in full here.