Graphic cardz orientated news organ Videocardz exclusively revealed photos and some "confirmed" details of the Nvidia Maxwell GM206-300 and GeForce GTX 960 this weekend. It also claimed that shipments of the graphics cards have been sent out already and some press releases concerning these SKUs are subject to an NDA which lifts on 15th January.
According to Videocardz the official variants of the Nvidia GeForce GTX 960 graphics cards will differ only in the amount of RAM installed. It expects initial launch products to be equipped with 2GB of GDDR5 RAM with 4GB versions following in their wake. They will all be based upon the GM206-300 graphics processor. Of course manufacturers will implement their custom coolers and so on to try and differentiate their products.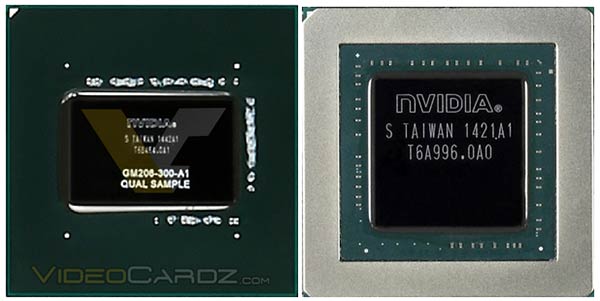 GM206 (left) and GM204 GPUs side by side
The GM206-300 is said to connect to its graphics memory via a 128-bit interface. The latest speculation suggests that it will sport 1024 to 1280 CUDA cores. Various leaked listings have shown ASUS, Galax and MSI GeForce 960 GTX graphics cards waiting in the wings for launch time.
ASUS listings show evidence that it is preparing a DirectCU 2 OC and STRIX OC version of the GTX 960. Galax listings show that it also has a pair of GTX 960 cards ready and waiting with its OC version clocked at 1228/7010MHz. All these cards are listed as 2GB 128-bit products.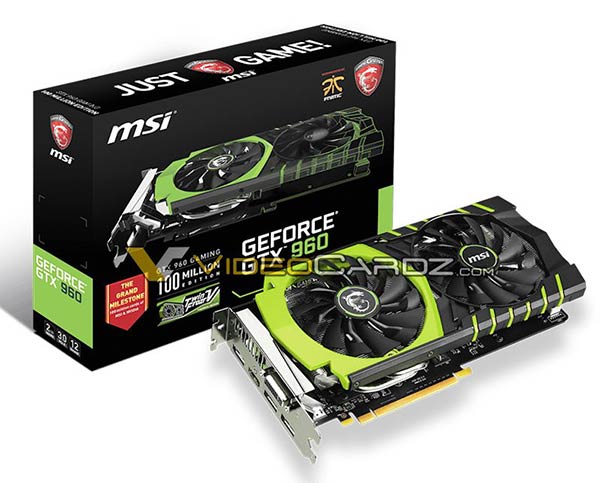 MSI's upcoming GTX 960 GAMING 2G and 100 MILLION Edition graphics cards, and their packaging, were shown in pictures, again by Videocardz. You can see the 100 MILLION Edition box shot above, boasting of the Twin Frozr 2 design utilising heatpipes and twin fans. The MSI GTX 960 GAMING 2G is pictured below. Both these graphics cards are powered via a single 8-pin power connector and sport three DisplayPorts, a HDMI and a DVI connector.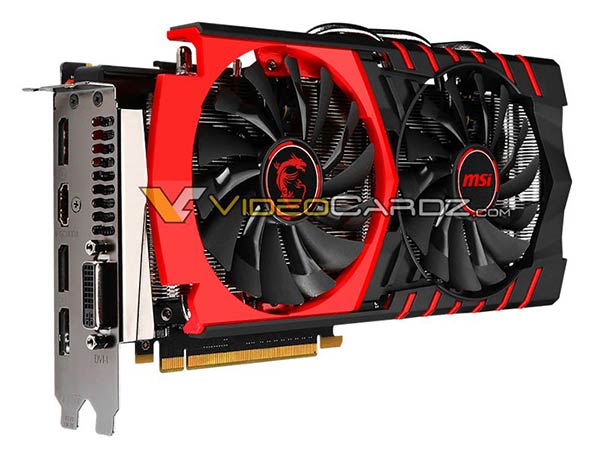 Will these Nvidia GTX 960 graphics cards be launched this Thursday, next Thursday or some other time? The leaks and the rate of leaks suggest that launch is imminent but we shall have to wait and see.