It looks like Gigabyte is preparing to release its GeForce GTX 980 WaterForce Tri-SLI graphics card system for public consumption. HEXUS first saw this, "the world's first 3 way SLI closed loop water cooling system," at Computex, back in June. You can see our video of a PC powered by the Gigabyte GeForce GTX 980 WaterForce Tri-SLI here.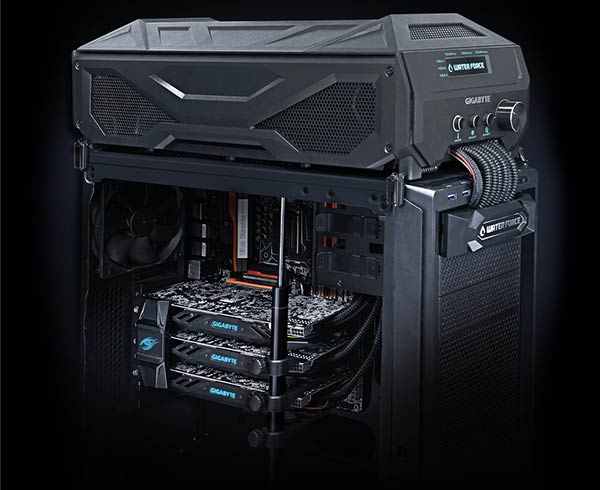 TechPowerUp reports that Gigabyte has today announced its intention to launch the GV-N980X3WA-4GD. As viewers of our Computex report will remember, it is a device which combines three GeForce GTX 980 graphics cards in your PC and a water cooling system in an external case which sits upon your PC system. Cooling pipe tendrils emerge from your PC chassis into the radiator, heat pipe and fan filled WaterForce box where the fluids are cooled and then sent back into your PC.
Since Computex time it sounds like Gigabyte has given the system some speed tweaks and we are told that the GV-N980X3WA-4GD features a trio of factory-overclocked GTX 980 chips running at 1228MHz core, 1329MHz boost, with 7GHz memory.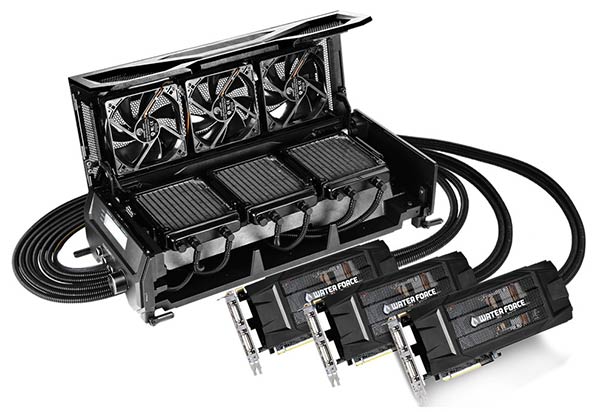 The GeForce GTX 980 WaterForce Tri-SLI box contains an independent 120mm fan and radiator dedicated to each GTX 980 in your PC. Thus the control panel on the front of the unit can alter settings for each GPU cooling setup individually. Users can monitor the temperature, fan speed and pump speed for each unit with the data for each of those parameters shown on a front mounted LED display. Buttons below each data display column can alter parameter target values via the large rotational knob on the right.
As with our original Computex report there is still no launch date specified. Pricing remains uncertain, however in June we got an estimated price for the unit of US$3000.