We have previously heard whispers that Nvidia will skip the GeForce GTX 800 series of desktop cards and go straight to the GeForce GTX 900 series. The first time you officially see and hear about these new graphics cards will probably be at the climax of the Game24 global 24hr PC gaming celebration, which kicks off on 18th September.
In the last few days the naming rumours appear to have started firming up somewhat as appropriately named and specified Nvidia Graphics cards have appeared in retailer/distributor listings. Synnex, a major IT supply chain corporation, has spilled listings of both ASUS and Gigabyte GeForce GTX 900 series cards. Both these major AiB makers have prepared at least two new SKUs for launch; a GTX 970 based model and a GTX 980 based model.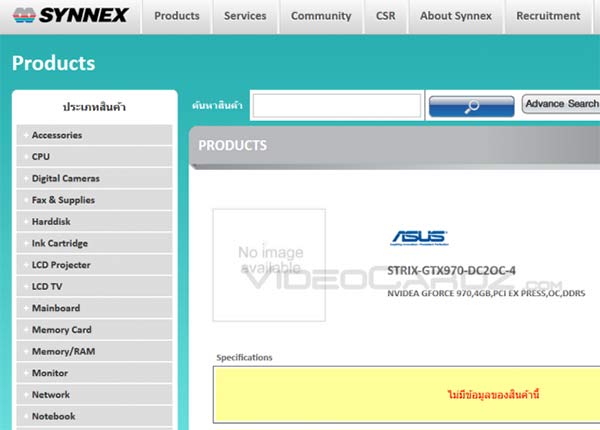 ASUS appears to have prepped a reference GTX 980 design and a STRIX GTX 970 graphics card. VideoCardz unearthed the Synnex listings of both these SKUs. As regular HEXUS readers will know the ASUS Strix range employs a cooler which doesn't even spin up its fans until a certain temperature level is reached helping you enjoy a quieter system in your quieter computing moments.
Gigabyte's Synnex listing reveals more specs, and we can see the key configuration of these SKUs in the listings as follows:
Gigabyte GTX 970 G1 Gaming (GV_N970GI_GAMING_4GD)
NVIDIA GTX970 128*32 DDR5 256 BIT
Gigabyte GTX 980 (GV_N980D5_4GD_B)
NVIDIA GTX980 256BIT/4096MB/PCI-E 3.0/128*32 DDR5 256 BIT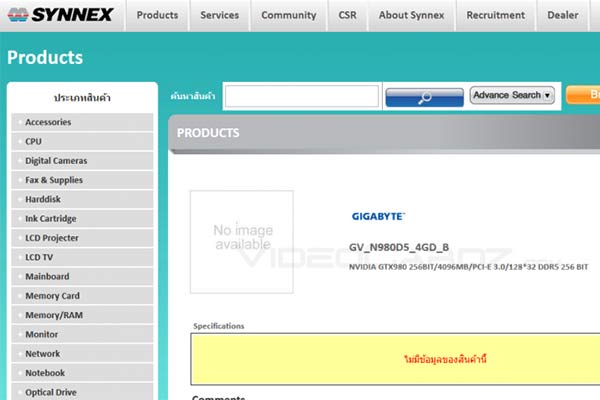 VideoCardz explains that according to its information the GTX 970 cards have been ready for much longer than the GTX 980 ones. Thus AiBs have had time to work their magic on them, producing the signature versions you would expect. Meanwhile both ASUS and Gigabyte have only readied reference design GTX 980 cards.
In related supply chain revelations Guru 3D has noted that the Nvidia GeForce GTX 980 is listed on a Europe based pricewatch engine. The following spec is revealed (but the 'GM104' reference is a slip and should be GM204):
Chip: GM104 "Maxwell"
Memory: 4 GB GDDR5, 256bit
Shader units / TMU / ROP: 2560/160/64
Fab: 28nm
Shader model 5.0
Interface: PCIe 3.0 x16
Slot: dual-slot
Power: 2x 6-pins PCIe
Back at VideoCardz, the team has made a 3DMark performance chart showing comparative scores of the Nvidia GeForce 900 and 900M series with currently available graphics cards from AMD and Nvidia. The source of the cards and scores is unknown so while the figures are fun and interesting you should, of course, take this data with a pinch of salt.