Shhhhhhhhh
AMD's Radeon HD 6850 graphics card is currently a safe bet at around £150. It competes well against the price-comparable NVIDIA GeForce GTX 460 1GB GPU.
While benchmark performance is similar, AMD is better than NVIDIA with respect to under-load power-draw, where the Radeon consumes considerably fewer watts than its counterpart. The HD 6850 ships with a TDP of 127W - a figure which is just outside the heat-dissipating ability of the very best passively-cooled heatsinks.
PowerColor, though, reckons that it can keep the HD 6850 in check with a truly monster-ish heatsink. To that end, it is readying the HD 6850 SCS3.
Images by way of PowerColor's Facebook page.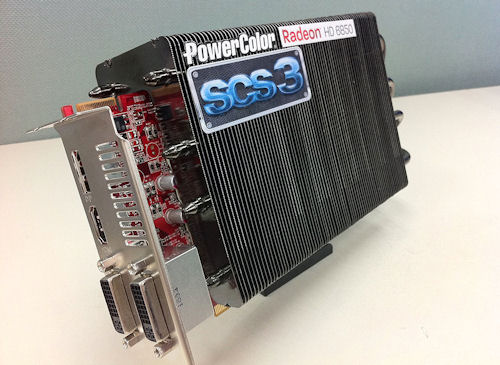 The massive heatsink is equipped with five heatpipes that ferry the heat from the core to the fins. It's a one-sided design that takes up two expansion slots. This means it should fit into the same chassis as any regular HD 6850.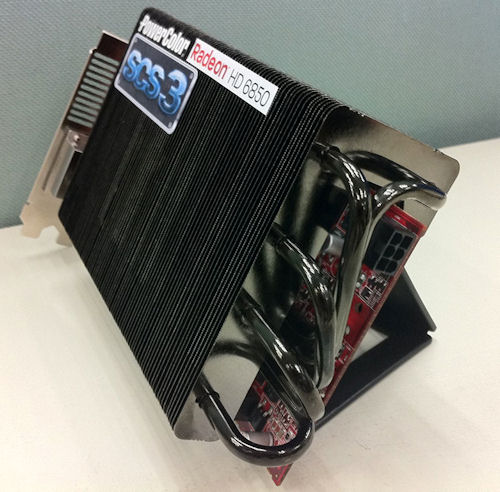 Significantly taller than the rear bracket and undoubtedly hot-running, PowerColor, we believe, keeps to the HD 6850's stock clocks of 775MHz core and 4,000MHz memory.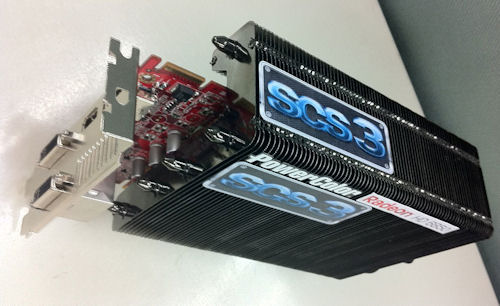 Outputs include two DVI - single- and dual-link - HDMI and DisplayPort. The single CrossFire connector isn't fouled by the heatsink, telling us that you can install two into a mid-sized chassis.
We reckon that the real fun will come once enthusiasts strap a fan or two on the side, to see just how high the Barts core can go.
No word on pricing or availability just yet, but we've just been in touch with PowerColor to arrange a sample. Keep your eyes peeled for an upcoming review.