It seems a bit silly - at least to us - to be confirming the names of AMD's upcoming high-end GPUs, but until now the cards have only been officially referred to by their code-names.
Finally, though, the company matched up the names and the numbers as a part of its Analyst Day presentations. We now know with absolute certainty that the high-end single GPU cards - based on the Cayman Pro and XT GPUs - will come to life as the Radeon HD 6950 and HD 6970. So, no surprises there.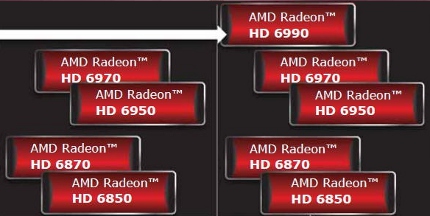 The dual-GPU Antilles-based card has also been announced as the Radeon HD 6990, again confirming what we already knew. What we weren't sure of was when the successor to the HD 5970 would find its way into public hands, and unfortunately, it's looking like it won't be as soon as we had hoped. Despite speculation that had the card pinned down for a December launch, AMD's roadmap has it falling into a vague 'Q1 2011' time-frame along with the mid-range Turks and Caicos cards.
This might give credence to the rumours that TSMC is producing poor - possibly even single-digit - yields of the new high-end silicon. The current buzz is pointing to a one week delay for the Cayman GPUs that will see them barely make it to retail before the end of November. Since Antilles is expected to make use of a pair of these chips, it would make sense for AMD to delay the launch until yields improve.
Of course, the company is hardly under pressure to release a new ultra-high end card. Even though NVIDIA's GTX 580 is more than capable, it still struggled to keep up with the HD 5970 in a lot of our tests. Combined with a rumoured price-drop that would significantly undercut the new single-GPU king, it's clear that there's still some life left in the older card.