GPU rumours wait for no man
Now that AMD's Radeon 6800-series GPUs are out in the wild, the rumour mill has turned its attention to the next card expected to come from the boys and girls in red - the HD 6970.
While we don't have any specs for the chip - codenamed Cayman XT - a post on zol.com claims to have obtained performance figures for the video card. Running through 3DMark Vantage in performance mode, the supposed HD 6970 scored a respectable 23,499. Meanwhile, the card managed to get through the Unigine Heaven benchmark at 36.6fps at 1,920x1,080px with 4x anti-aliasing and 16x anisotropic filtering.
According to the source, a GTX 480 on the same platform scored 21,106 in 3DMark and ran the Unigine benchmark at 29.5fps, while an HD 5870 managed 19,337 and 17.3, respectively. Here's the Unigine numbers referenced against our reviewed HD 6850 and HD 6870 cards, amongst others.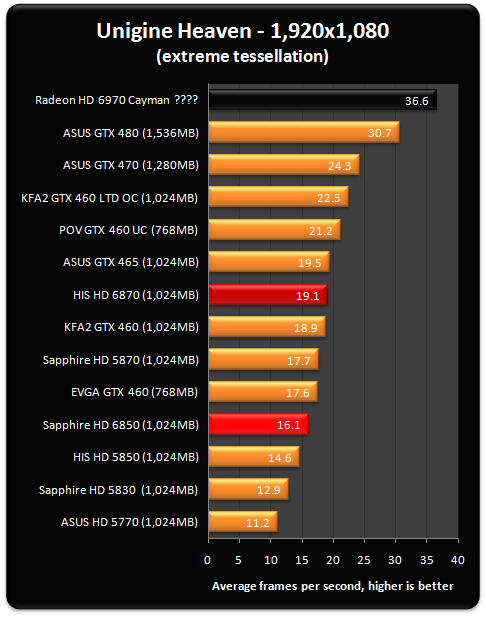 Based on these numbers, the 6970 looks like it could boast about 20 per cent greater performance than its predecessor and even gain a ten per cent lead over NVIDIA's best. However, if the rumours of a GTX 580 which is 20 per cent faster than the GTX 480 come to bear, the Radeon will once again be forced to settle for second place.
The only other interesting morsel is the claim that the card will use one six-pin and one eight-pin power connector, with a total power draw of around 225W. This matches what was seen in the previously leaked photos and seems to correspond to a linear power/performance increase over the HD 5870. It would also make the 250W GTX 480 look like even more of a power-hog.