Much has been made of AMD's upcoming Radeon HD 6000-series architecture - codenamed Northern Islands - but if you're still wondering what exactly is in store in terms of products, here's how it's shaping up.
A combination of recent leaks, rumours and speculation have the Radeon HD 6870 and HD 6850 launching at the tail end of next week.
Based on the 'Cayman' core and believed to be arriving as the new mid-range crop, both products appear to have strong performance credentials, with early benchmarks going as far as to suggest that the Radeon HD 6870 offers close to 50 per cent more grunt than the current mid-range HD 5770.
Good news for budget gamers, but for those who'll accept nothing but the crème de la crème, AMD won't attempt to topple NVIDIA's GeForce GTX 480 until late in November.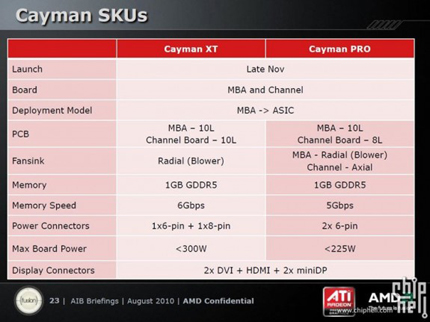 According to the above slide - the latest to leak from Chinese site Chiphell - late November will see the arrival of the Cayman XT and Cayman Pro cores, both of which are believed to be productised as the Radeon HD 6970 and HD 6950, respectively.
The slide reinforces recent speculation, but throws in a few additional tidbits. If the information's accurate, AMD's soon-to-be-fastest-single-card-solution, the Radeon HD 6970, will feature a mammoth TDP of up to 300W, necessitating both six-pin and eight-pin PCIe power connectors.
The toned-down Cayman Pro core - used in what's believed to be the Radeon HD 6950 - scores a TDP of under 225W and requires two six-pin power sources.
Real-world performance remains a question mark, but we'll have a better idea when we take a look at the first of the 6000-series crop late next week.