Fermi on the move
Now that NVIDIA seems to have gotten a handle on its Fermi architecture, the flood gates have officially opened. Today, the company is launching seven all new mobile-GPUs at a full-range of performance-points that should be available just in time for Christmas.
At the higher-end of the scale are the GTX 470M and GTX 460M, while the mid-to-low end is being fleshed-out with the GT 445M, GT 435M, GT 425M, GT 420M and GT 415M chips. Unfortunately, the manufacturer hasn't gone into too many details on the specs of these parts, but they are all based on the new architecture, so will support all of the normal DirectX 11-goodies.
We've also been told to expect the new parts to be around 40 per cent faster than the equivalent GT 300M-series models, though performance will be around half that of similarly-named desktop components.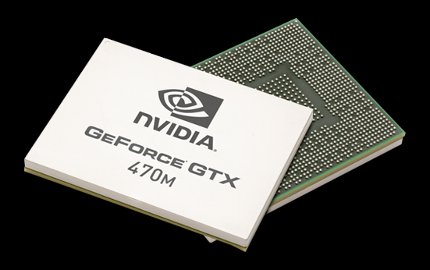 All of the new GPUs will ship with support for NVIDIA's PhysX, CUDA, 3D Vision and Optimus technologies. This marks the first time that the higher-end - and more power hungry - mobile-GPUs will include the graphics-switching feature, where it will arguably be even more of a welcome addition. Of course, Optimus will only be available when the chips are paired with a newer Intel CPU with a built-in graphics-core.
Laptops with 400M-series GPUs will be available in time for the holiday season, and the company has signed up six of the top laptop-manufacturers to use the new parts. This includes Acer, ASUS, Dell, Lenovo, Samsung and Toshiba, though other vendors are expected to follow-suit shortly afterwards.
Once they launch, mid-range laptops with an Intel Core i5 mobile-CPU and NVIDIA GeForce GT 425M GPU should cost in the region of $749 (£585 including VAT).