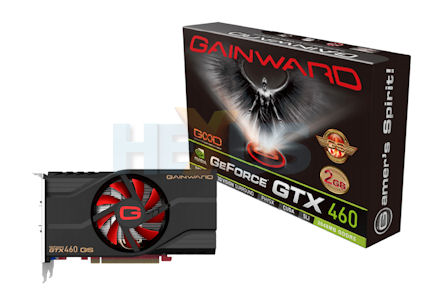 NVIDIA's GeForce GTX 460 now arrives in a variety of pre-overclocked flavours, headlined by the 810MHz core KFA card we looked at today. Common amongst all the cards we've seen thus far is the framebuffer size, which is either 768MB or 1,024MB depending upon the partner's inclination.

Gainward sees merit in launching a GTX 460 equipped with a 2,048MB framebuffer. To that end, the company has released a 'Golden Sample' model clocked in at 700MHz (up from default 675MHz) core and 3,600MHz memory. The 2GB framebuffer is composed of double-density chips, we think, that hook to the card via a 256-bit interface. Cooled by a centrally-located 80mm fan helped by two heatpipes, the custom design looks rather nice.

Outputs include HDMI, twin dual-link DVI and VGA and the estimated street price is around £210. We see why Gainward may think that having a double-sized framebuffer is a good idea, but we're unsure that it will provide any meaningful benefits for the vast majority of users. Perhaps putting two together for NVIDIA's 3D Vision may show the benefits of larger amounts of onboard RAM?

Would you pay £210 for a 2GB GTX 460? Let us know your thoughts in the HEXUS.community.