For whatever reason, some people just don't have the room for a dual-slot graphics card in their system. Unfortunately, with today's power-hungry GPUs, single-slot designs don't normally offer enough cooling for anything more than low-to-mid-range chips. Now, though, it seems that PowerColor has done the impossible by building a full-speed Radeon HD 5770 into a slim-line package.
While it's quite common to see cards that cut-back on cooling using lower clock speeds, this HD 5770 makes no such compromise. The GPU runs at 850MHz with 1GB GDDR5 ticking-along at the normal 1,200MHz (4,800MHz effective). The manufacturer even manages to cram a mostly-complete range of output options in, equipping the card with DVI, DisplayPort and HDMI connectors.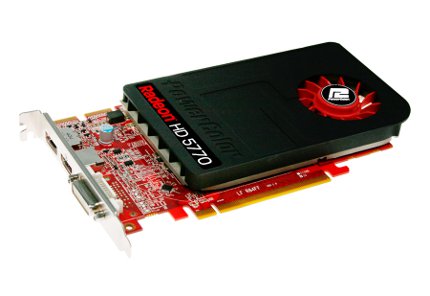 Of course, there are bound to be some compromises on a product like this. We're sure that the cooling system keeps temperatures at reasonable levels, but they're bound to be higher than what you'd expect from a dual-slot design. The smaller back-plate also loses the rear-vents, meaning you'll need to have pretty-solid airflow through your case to prevent overheating. Lastly, the fan itself looks quite small, meaning that it'll probably need to spin-up to pretty high speeds to keep the circuitry cool. Small, high-speed fans tend to be quite noisy, though we'd need to get some hands-on time to know for sure.
Nonetheless, this latest addition to PowerColor's range shows some excellent innovation from the company, and should be greatly appreciated by those using smaller cases who still want a decent graphics solution. The thinner design will also allow for some compact CrossFire-action, as well. In theory, it should even be possible to fit four cards into an mATX case, as long as you can find a suitable motherboard.
For those looking for a single-slot card that doesn't sacrifice performance, this Radeon HD 5770 should be available from August 13. PowerColor has yet to give any indication as to price, though we can't imagine that it'll carry a particularly large premium over reference cards.